1930 MG 'M' sports
A genuine vintage MG 'M, perfect for all events with the VSCC & others.
A rare opportunity to secure an 'M' type with all matching Nos. AND a Phoenix c/balanced crank!
Model Type

MG 'M' sports

Style

2-seat sports

Year

1930

Registration No.

MJ1911

Engine No.

MG 760A

Chassis No.

2/M998
£ SOLD
Enquire about this car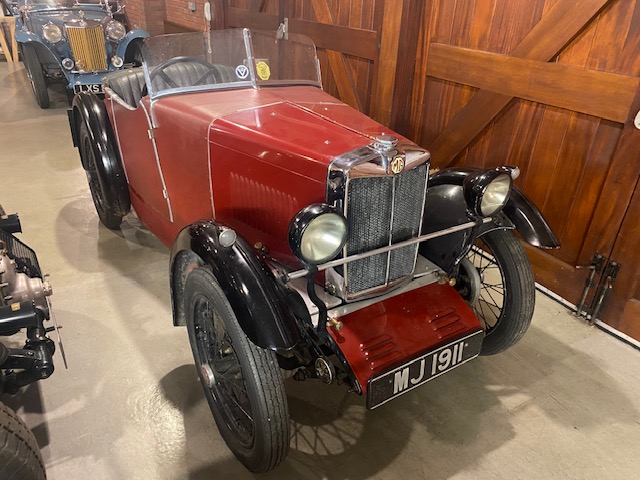 View larger images
It is not often we offer you an 'M' type, but occasionally a really well built one comes along with an interesting history and very enthusiastic long term previous owner and then you know you've got a good one. Not only that, but find me another with all matching Nos. (they are few & far between) and this too has the massive advantage of a Phoenix counter-balanced crank & Carello pattern rods.
The sporting evolution of the early overhead cam Morris Minor was the MG 'M' type. It was extremely popular, selling well as an affordable sporting car, and over 3000 were made between 1929 and early 1932. This particular example has an amazing history having been documented in various detailed notebooks regarding everything ever done to the car in the last 40 years. Quite astonishing.
The rebuild is documented in numerous photographs including full details of the new body tub (that has been done correctly unlike so many), the complete engine rebuild with c-balanced crank & rods and the chassis from the ground up. Yes, the car has seen some action with the previous owner; but an owner who knew how to look after the car and apply the proper maintenance.
The engine has an slightly higher compression head, hardened valve seats and the genuine 1&1/8th" carburettor. Original 6V electrics and 4-speed box allow it entry into most VSCC trials and events. (3-speed boxes are available from us.)
The canvas covered bodied has the proper finish, the patina is nice, the seats are correct and unlike many this one has a roof! It also has the correct dashboard & fittings, correct 'V' windscreen, original radiator and original MG crested bonnet catches.
We have fitted new 6V battery, serviced the car, checked andvtested it on the road where it steered well and gave particularly lively performance from its original 850cc engine.
It is definitely one of the most original 'M' types I have seen having adhered to the factory specification without modifications and more modern additions.
An ideal car for a younger enthusiast to get involved with the MG Car Club and the VIntage Soports Car Club and all that they offer, and at an affordable price for a true vintage MG. Come on, get your sons & grandsons interested....?
Enquire about 1930 MG 'M' sports
Privacy notice: the personal data you enter here is only used by Barry Walker MGs to contact you in regard to this car. We do not share your details with third parties nor will we contact you further without permission.