1931 C type Montlhery Midget rep.
It is very rare that a post production version of the C type comes to the market
Completely restored to 1931 C type specification by David Cooksey on an original factory D type chassis, this magnificent car comes at a fraction of the price of its factory built brother, but rivals many originals in both performance and authenticity.
Model Type

C type Montlhery Midget rep.

Style

Sports/racer

Year

1931

Registration No.

FS 1734

Engine No.

573AJ

Chassis No.

D0321
£ SOLD subject to contract
Enquire about this car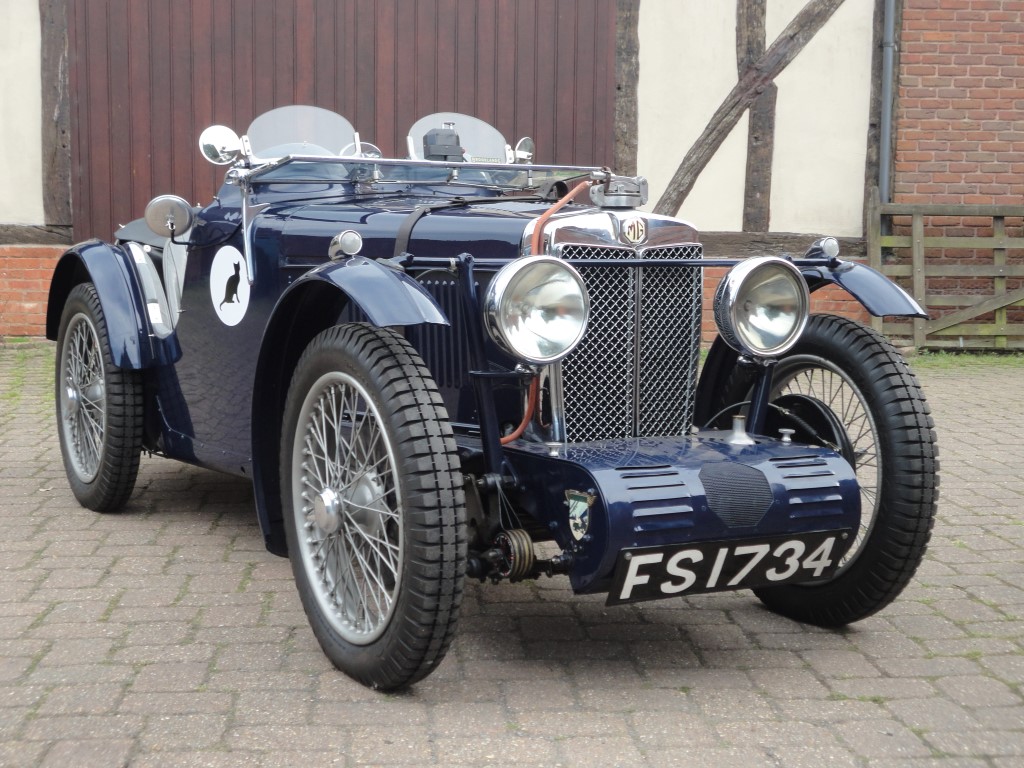 View larger images
The 'C' type was the first true MG racing car, and although sold in road trim, could quickly be prepared for the track. The model gained numerous successes at Brooklands and at Montlhery in France, from where it earned its tgitgle of 'the Montlhery Midget'. Of the 44 original cars built most have survived and been well restored, but only a handful of very faithful post production replicas (for want of a better word) have been produced of which the one offered here is probably the best.
It was rebuilt in the early 2000s by the well respected 'C' type owner....David Cooksey on an original 1931 factory 'D' type chassis, being specified as the later C types were with a nose mounted supercharger. The very close adherence to the factory C type specification has accounted for it being difficult to tell this car from a factory produced model.
Fitted with the later, better, cross-flow engine with counter-balanced crank and Phoenix rods, lightened flywheel, 7.25" clutch and driven through an Arnott nose mounted blower and ENV gate change manual gearbox with 7.37 rear axle. With 60-65bhp this car is ideal for spirited touring, rallying, hill climbs and even track competition.
Such a car provides numerous opportunities to the buyer , and for those that like it, the magnificent condition and presentationwould probably win you a pot in the local park!
Like all these cars they need using and the easy maintenance and huge availability of spare parts provides you with not only a wonderful investment but few worries when you get out on the road.
Finished in deep sea blue with beautifully matching grey leather seats and interior, the combination is perfect. The full screen, in addition to the aeroscreens, and the new double-duck tonneau provide ample weather protection, whilst the boot (although holding the spare wheel) offers ample room for 2 or 3 soft bags, ----all in all----- a fabulous package with so many possibilities. MGCC and VSCC registered, massive history file, and original 1931 registration, this is a very expensive car to build, but is still half the price of its factory produced brother.
Please come and view and we'll go for a test drive.
Enquire about 1931 C type Montlhery Midget rep.
Privacy notice: the personal data you enter here is only used by Barry Walker MGs to contact you in regard to this car. We do not share your details with third parties nor will we contact you further without permission.