1932 6 cyl. F MAGNA
TOTALLY PERPLEXED why nobody wants this 6 cyl. MG . It is a bargain, and nobody's viewed it??? Click & look at the pictures. So original.
An ideal oppotunity to build a very valuble 2 seat 'F' Magna, the original 4-seat tourer , or a road/race special.
Model Type

6 cyl. F MAGNA

Style

Tourer, or as you like

Year

1932

Registration No.

RX 9616

Engine No.

1212AF

Chassis No.

F 0452
£ S O L D
Enquire about this car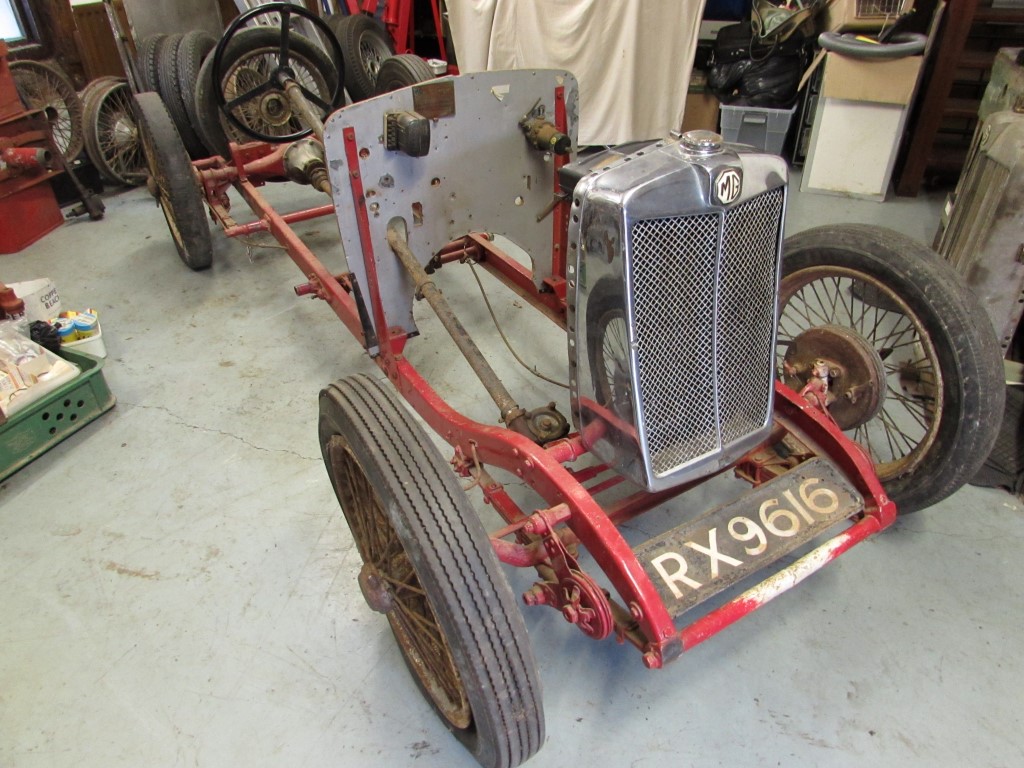 View larger images
I HAVE NOW BEEN BACK AND COLLECTED THE REST OF THIS CAR. It is NOW COMPLETE WITH RESTORED ENGINE, VERY RARE ENV GEARBOX, ORIGINAL TOURER BODY AND DASH PANEL WITH ALL GAUGES AND SWITCHES.
It must surely be a bargain for a 6 cyl. MG
What an exciting oppotunity to build from a clean slate. I wish I was 10 years younger. Here you can choose exactly what you've always wanted......the type of body, (see below) and pace yourself to the budget you have.
REMEMBER, in the old MG world nowadays almost everything you could want is available through a network of specialist dealers, manufacturers and craftsmen, so here are some possibilities.
You could be the purist and build it as a rather unhansdsome 4-seat tourer that frankly was more suited to two adults and 2 small kids than pulling 4 adults up Porlock Hill! This is the body now with the car, very reasonable, with excl. wings, bonnet, tank, u/tray, etc. There are some fine examples of the F tourer to view in MG circles and is of course the type of body this particular chassis No. carried when first out the factory door. Good sound body tub, perfect front wings,undertray, tank, apron, bonnet, valences.
OR you could build the very handsome 2-seat F2 sports model, graced with a cycle wing body, architypical of early MGs and only one of 2 road going MGs to be fitted with conventional cycle wings by the factory, the other being its smaller brother the MG J2. Although this chassis did not carry the 2-seat body from new, the chassis is identical for either 2 or 4 seat models, and whilst its final retail price won't eclipse that of one of the original 40 F2 models, it will be a very handsome, attractive car with a more than a healthy return on the investment to build.
OR you could build a '6 cyl. special'. It has long been accepted in MG circles that one of the finest conceptions at the lower end of the market (when compared with genuine MG race cars, most beyond the average man's reach) is the light MG F chassis (offered here) fitted with a 2-seat body and a later engine such as the L or even the better N. A well built one of these will shake your socks off, or at least blow back your hair until you have it cut.
Have you thought about building this option with the lightweight F chassis, ENV gate change g'box, 'N' series engine, and 2-seater body F2 body with cycle wings. It creates one of the most handsome MGs ever designed, incorporates the most powerful MG ohc engine and has a resale value of £70-£75,000!
The engine has all been white metalled, line bored, crank ground & tested, rods re-metalled and bored, new pistons, but needs final assembly with all the new parts. Dynamo restored, starter motor restored, oil pump rebuilt, etc. etc. Complete with rocker box, manifolds, s/motor and carburettors.
Dash board is now there with complete unrestored centre panel and all gauges & switches. Headlamps, side & tail lamps, bonnet catches a nd door locks all included
I very much regret we could not obtain the windscreen, but if found will be included.
Some further cosmetics will be needed, but all available.
Manual, parts list and numerous other paperwork goes with the car, but original Reg. No. will need to be re-registered with DVLA.
To find an almost complete 6 cyl. overhead camshaft MG at this price is rare, and will make a wonderful rebuild.
Delivery UK included.
Enquire about 1932 6 cyl. F MAGNA
Privacy notice: the personal data you enter here is only used by Barry Walker MGs to contact you in regard to this car. We do not share your details with third parties nor will we contact you further without permission.