1932 D Salonette
The sole surviving MG 'D' type Salonette. A unique opportunity to secure a genuine investment at this price.
Beautifully restored but price reflects the need for some easy recommissioning. Do read on.
Model Type

D Salonette

Style

Salonette

Year

1932

Registration No.

PJ 7527

Engine No.

668AD

Chassis No.

D0407
£ SOLD
Enquire about this car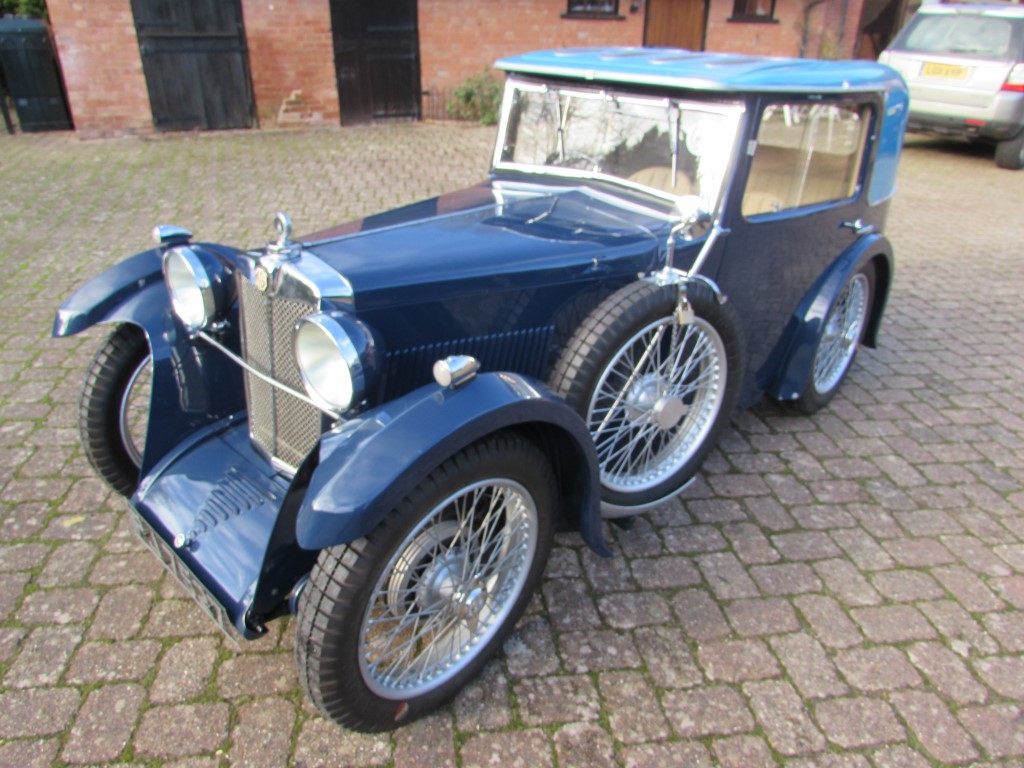 View larger images
Yes, this car has been heavily advertised (by others) until most of the world has surely seen it. It has failed to sell because it has been offered at ridiculously inflated and unrealistic prices and has also been incorrectly described. I trust the following will allow this very rare car (for it is the only known MG 'D' Salonette to survive) to find a good home and a new owner that can put this unique car back on the road.
This MG model is one of only very few 'D' salonettes produced in 1932 by the Abingdon factory and is recognised by the relavant authorities as the only one to have survived in its original form. They were given competition by the much cheaper ohc Morris Minor saloon, and were rapidly displaced by the MG 'J' Salonette in 1933 with its improved engine.
This car has seen enormous effort lavished upon it, but further finishing work is still needed to finalise the rebuild. An exquisite body by David Earp is exact to factory specification and is complimented by the magnificent sliding sun roof, the beautifully accurate interior and the rare windscreen and window furniture that make the Salonette and Airline Coupes so intricate and difficult to restore. The new owner will have no such worries sourcing anything difficult, as all is there, restored and in place.
With the hugely difficult body and its fittings have been safely rebuilt and finished, attention is needed for some easy recommissioning of the engine, carb. and braking system. A very generous allowance has been offered against this work and is seen reflected in the low asking price. Under instruction we have rewired the car, fitted a brand new dynamo, set-up the steering and fitted a new and factory correct steering wheel, leaving very little mechanical work for the new owner to undertake at 'love-my-car' rates! Whilst we can undertake any recommissioning , it can put the price beyond many people's reach, and as easy work only is required here, it is better done by the owner restorer at leisure, especially as nothing else needs attention.
The car is finished in Oxford & Cambridge blues; the interior is completed in beige leather with blue carpeting and polished mahogany finishes. Spare paint, carpet and other accessories accompany the car. The car sports the original engine, rare bronze 1&1/8th carburettor, original 3-speed gearbox, original SU 'Petrolift', Rotax K624 headlamps, correct dashboard and new honeycomb radiator.
The car comes with full factory chassis file, long history, MG Car Club recognition and register No., original registration plate from new and current DVLA paperwork to complete.
This is the perfect all-weather small car for UK touring events, Pre-war Prescott , super fun jaunts to the pub and no moans from the wife or partner for that weekend away, as you sit in the warmth and comfort provided by the cosy body; AND all that luggage space offered by the back seat as well as the folding boot rack. Two fingers then to the 2-seat open-top boys!!
Forget dividends, Govt. bonds and the like.....this one, IS a real investment, so don't get trampled in the queue?
Enquire about 1932 D Salonette
Privacy notice: the personal data you enter here is only used by Barry Walker MGs to contact you in regard to this car. We do not share your details with third parties nor will we contact you further without permission.