1932 F 6cyl. Magna Project
A very rare 6 cylinder MG 'F' Magna retirement project. Dismantled but totally complete for rebuild.
A rare opportunity to secure an easy 6 cyl. retirement project that can be built as a 2 seat or 4-seat model.
Model Type

F 6cyl. Magna Project

Style

2 or 4 seater

Year

1932

Engine No.

763AF

Chassis No.

F 0529
£ S O L D
Enquire about this car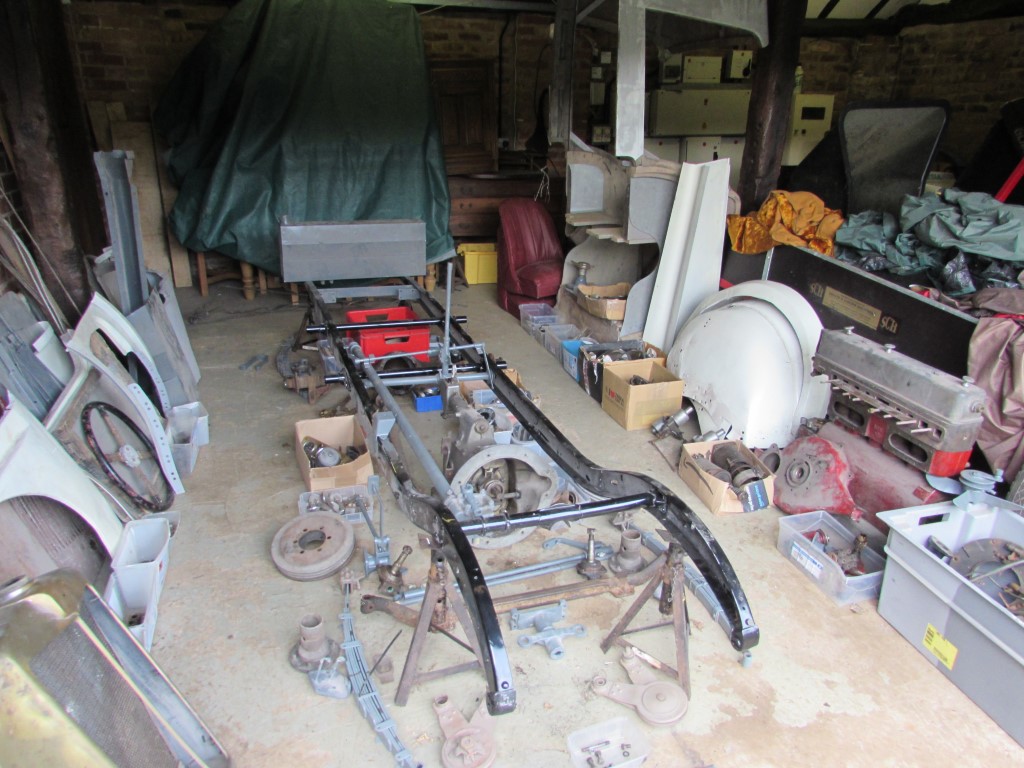 View larger images
Looking for something to keep the mind ticking in retirement? How about restoring an old MG that doesn't need months of sourcing rare bits because they are all there. Doesn't need hours of reading complicated manuals because it is a simple rebuild, and a huge community of MG enthusiasts and traders that are only too willing to help a new owner.
So here is an original 1932 6 cyl. MG Magna, known as the 'F' type. It is complete in all respects, but dismantled ready for building back-up prior to the last owner suddenly leaving us. Only certain work had been commenced, including full restoration of the chassis frame and all parts thereof being prepared and primered for re-installation. We have laid out the entire car for you to inspect and to see all is present.
The car can be built as the more popular (and more valuable) 2-seater sports, or as the original 4-seat tourer. The refurbished body frame with the car is at the stage where it can be altered to the original 4-seat body, or the 2 seat version, but the latter will need some additional equipment that can be swopped or purchased. The bonnet is excellent, but the wings are poor and can be swopped for cycle wings if required.
So the chassis is complete in all respects, and stands alongside the complete undisturbed original F type 6cyl. engine, and the rare ENV gate-change gearbox. Steering is in good condition, excellent original brakes, shock absorbers, all electrical equipment, wing stays, excellent radiator and shell, full windscreen & supports, ......plus correct lamps all round. There is a choice or either the 4-seat dashboard or the 2-seat dashboard if price is met.
In addition, there are good condition red leather bucket seats, all body furniture, horn, bonnet catches, and much more too numerous to list.
The car was found after 50+ years in store on the Orkney Islands and may well have been there for alot longer as the engine and gearbox show no signs of excessive wear. It comes with all original numbers, original registration from new , DVLA V5c and factory build date sheet. It is offered at a very attractive price, as finished as a 2-seater could fetch well in excess of £50,000, as 2-seat 6cyl. cars are becoming very sought after.
Spare parts are the least of your worries, not that much is needed, and help is forever fothcoming. Don't die in the chair, get stuck in, in the garage!!? Delivery mainland UK and full instruction manual is included in the price.
Enquire about 1932 F 6cyl. Magna Project
Privacy notice: the personal data you enter here is only used by Barry Walker MGs to contact you in regard to this car. We do not share your details with third parties nor will we contact you further without permission.