1932 MG J2
A fully restored MG J2 with just the right amount of patina!
This well known MG J2 was restored by us in the 1990s, and has recently undergone a complete refurbishment including a total engine rebuild.
Model Type

MG J2

Style

2-seat sports

Year

1932

Registration No.

OY 4080

Engine No.

1186AJ

Chassis No.

J2469
£ SOLD
Enquire about this car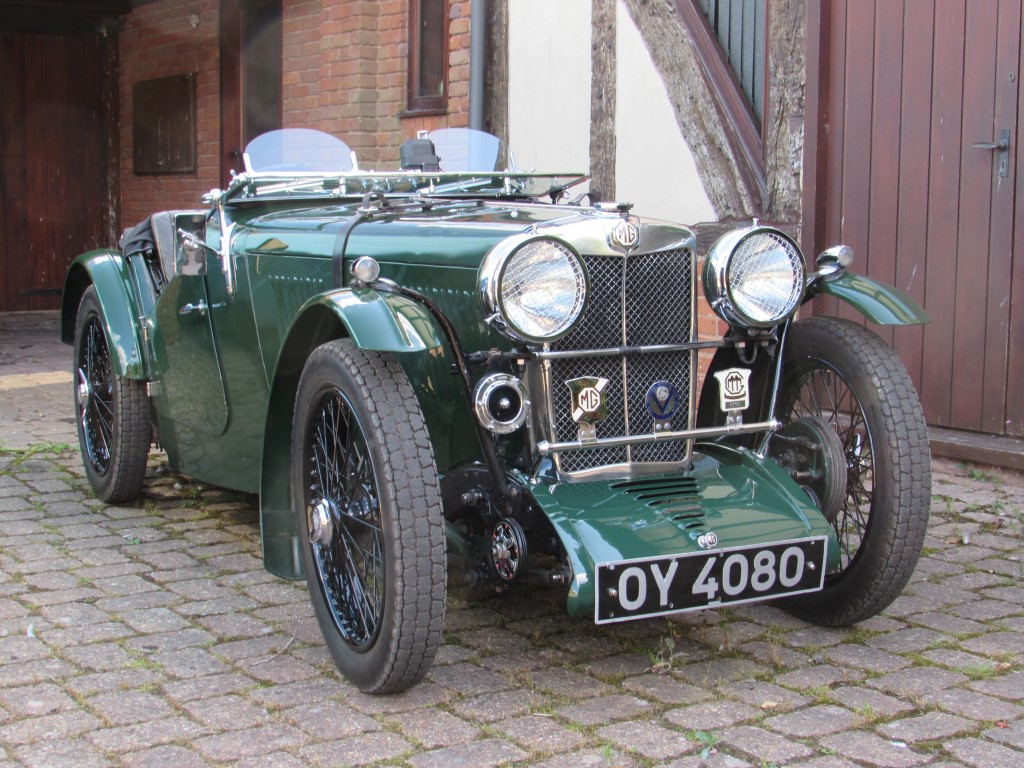 View larger images
Without doubt my favourite MG , but only because the factory didn't make an L2 with cycle wings; but still, aren't we lucky to have what they did make in those short 7 years?
Here is an early MG J2, manufactured in October 1932, being an original cycle wing example with the rare Mulliner body, early door locks and central mounted wiper motor (now electrically operated) although you can have the vacuum motor if you wish to struggle in the wet.
This beautifully restored example was totally restored by us in the early 90s and has since been with the owner we sold it to for almost 30 years until we recently purchased it back. Our restoration has more than stood the test of time, with its bodywork, upholstery and cosmetics still in excellent condition, and to add to this, in 2011-13 the car more than benefited from a £10,000 complete engine and gearbox rebuild where it received a Phoenix c/balanced crankshaft, Corello rods and Mahle pistons, and with all the bugs ironed out............ boy does it go! having not covered a great mileage since the rebuild.
The body, seats and chrome have just the right amount of patina, and as you can see from the photos, you may have to reach for the sunglasses when the bonnet is opened, but the important thing here is that the meat is in the engineering, all of which is painstakingly recorded in the most detailed files containing every invoice of work done, every MOT and continous mileage. All this adds up to a car that is for the man who wants to DRIVE his car, whilst being more than proud of the excellent condition were it to turn up to a show.
Since returning to us, we have gone through it with a fine tooth comb, rectifying any faults, fully servicing the engine, servicing the electrics, fitting aeroscreens, stoneguards and one of our new 3-part bonnet belts to replace the old worn strap. It now presents as one of the finest MG J2's for sale anywhere, and at a price few could argue with: it cannot be overlooked if you are considering an MG J2.
It has a nice used patina, being finished in British Racing Green with olive green Connolly hide seating and interior by Mike Collingburn, matching green Wilton wool carpeting, plus a full/half tonneau, and a barely used new roof and sidescreens.
Turning now to the paperwork, this is amazing. Spread over 5 meticulous files, the entire history of the car as known is documented, together with every invoice, costing, manual, and mileages covered in last 30 years. All MG Car Club, MMM Register & DVLA paperwork is present, the car of course retaining its original registration No. from new.
I sincerely hope this reaches the 'right home' for it is a car to cherish but USE; to show, but not win ------the car so many of you ask for!
I hope the photos speak for themselves.....it is a car you could buy sight unseen at this price, or you are more than welcome to call and inspect for yourself and view the others we have for sale, or even peruse the spares shop but this under slightly stricter conditions.
Don't miss it, I can't offer many like this.
Enquire about 1932 MG J2
Privacy notice: the personal data you enter here is only used by Barry Walker MGs to contact you in regard to this car. We do not share your details with third parties nor will we contact you further without permission.