1932 MG J2 project
Just arrived! This easy project must surely be the definition of the true bargain, just click and read on........
A wonderful oppotunity to build the archytipal 2-seat sports MG. Not quite complete, but every major component is present and most of it new or fully restored.
Model Type

MG J2 project

Style

2-seat sports

Year

1932

Registration No.

OJ 5185

Engine No.

1191 AJ72

Chassis No.

J 0369
£ SOLD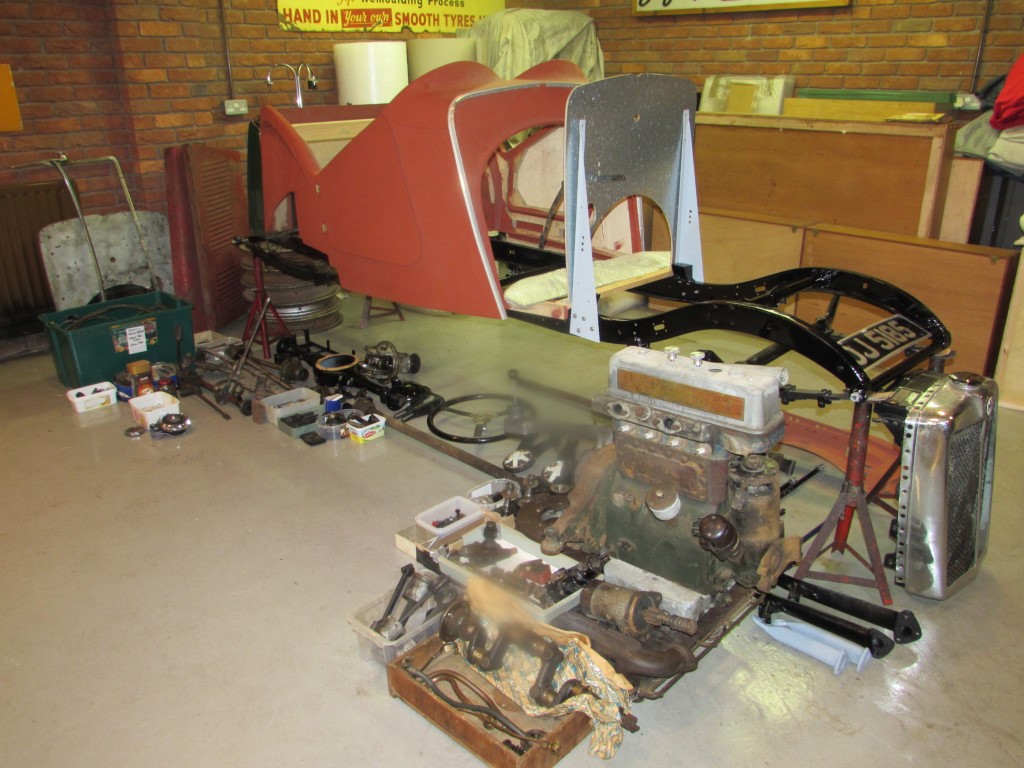 View larger images
It is not often we have projects for sale , but when we do, they ARE GOOD. Like the 6 cyl. 'F' Magna we have on offer on our web-site, this 4 cyl., cycle wing MG J series is one of the most sought-after of all MGs. They are simple and easy to build, and with the amount of new stuff included with this offer, you won't take long in finishing it.
Here is a stunning project with a fully rebuilt chassis frame. Checked for straightness and accuracy, with all crosstubes, new pins, trunnion bushes, trunnion rubbers, road springs & painted in exterior black finish. Added to this are the fully restored axles with a fully rebuilt differential, rebuilt hubs, rebuilt front shocks, and new galvanised 'snoflake' finished firewall, complete with accelerator assy., starter switch upright supports, fuel pump & fusebox.
There is a brand new engine turned dashboard, but no gauges (all available when you're ready).
Unrestored, but complete in all respects, are the steering box, original 3-spoke 'Blumedls' steering wheel, associated bracketry, complete handbrake c/shaft assy., rear shock absorbers and support brackets, half-shafts, rear hubs, bearing carriers and a full set of restored original 8" cable brakes.
We now come to the engine which is UNrestored but complete in all respects with a crack tested and reground original crank. All ancillaries, manifolds, starter motor, dynamo, swan neck oil filler, but no carbs. (Can be supplied, but were not with what we bought.) Clutch, flywheel, bell housing and gearbox all complete with new linings and thrust race. The gearbox remote is excellent, but is missing the choke & idle rods (again available).
Moving on, there is a brand new 2-seat body from Gilbert, together with new under bonnet side valences, new apron, new cycle wings and excellent original tank & bonnet. In addition there are cycle wing stays front & rear , headlamp crossbar, and mounting bolts & nuts. There are no lamps .
We then come to an excellent honeycomb radiator, radiator shell, nosepiece and radiator mesh.
Finally there is a full set of original 19" outside laced road wheels, set of NEW 400 x 19" tyres, complete windscreen with supports and full DVLA registration with V5c and original Reg. No. from new., a factory parts list, factory chassis file, and factory instruction manual.
If this lot, in this condition, including mainland UK delivery isn't worth this asking price, then you can't want a nice pre-war MG to occupy you during this miserable time.
Missing bits, help, advice, contacts are all available to you. It's what we do, and have done for years .
Don't hestitate to ask any questions , and if want it delivered without viewing (Corona), believe me, you will NOT be dissappointed.