1933 J2
If you want the best....then this is it........."The Amelia Island" concours winning car.
A total chassis -up, impeccable rebuild by Tom Metcalf in the US. Repatriated with its original registration No., this has to be one of the finest J2s in the world .
Model Type

J2

Style

2-seat sports

Year

1933

Registration No.

BRF 648

Engine No.

1980 BJ

Chassis No.

J3130
£ SOLD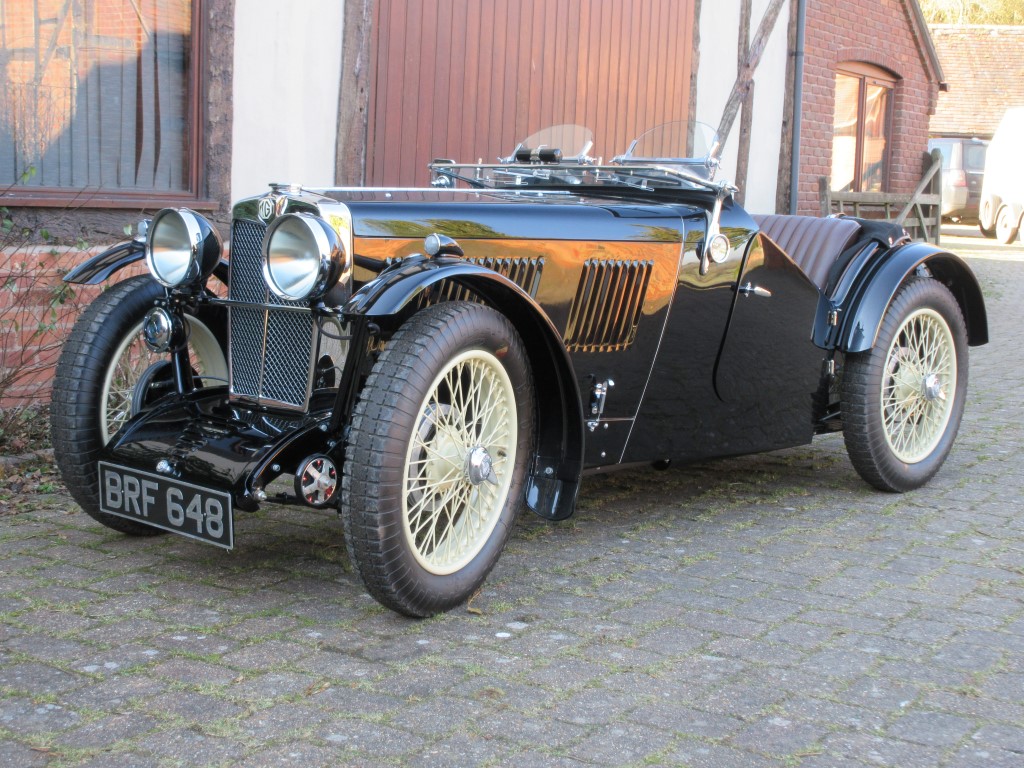 View larger images
First delivered to Attwoods Garage of Stafford on 7th April 1933, this is one of only 12 J2 models to receive the factory colour scheme of Black with calf brown leather interior and black weather equipment, and that's exactly how it is today. For those that know the J2 model. just look at the photos to see the level of detail and originality afforded to this rebuild. Tom Metcalf is where you go in the US if you want a proper MMM restoration and this is amongst his finest work culminating in winning the prestigous "Amelia Island" annual concours.
J3130 was sold and exported to the US in September 1986 by Octagon Sports Cars of Maidstone, and many years later finally reached the owner that decided to have the car properly restored, and Tom Metcalf was given the job with the brief it had to be totally as it left the factory, with the exception of receiving a fully counter-balanced Phoenix crank, Carillo rods and forged pistons. The original block was beyond repair and a new block was fitted taking the original number, so all is matching, right down to the g'box and axle numbers.
As can be seen from the photos, this is an impeccable rebuild of an early flat back tank J2, with new body by Steve Gilbert, instrumentation restored by John Marks, and upholstery by Mike Collingburn. The paintwork is perfect, as is the trim, engine detail , and wiring. The car sports the correct fuse box, Rotax K624/2 headlamps, TF 201A tail lamp, early stepped fuel cap , the original wire sprung wiper system with working vacuum motor and even a set of original Lodge HD 14 plugs sit in the plug holder!
The black double-duck canvas weather equipment is superb with the correct long arm tonneau cover protecting the hood frame legs as original. The carpets are Wilton wool with MG crested driver's mat and passenger foot rest.
There will be those that say you can't take a car like this out on the road without worrying about the condition, but then most of the non-concours cars don't even get on the road these days, and it does them no good sitting on a plinth in your garage. Remember the days when Alan Simpson, Geoff Coles and John Kidder, etc., DROVE their cars for miles and miles to concours events and STILL won year after year, and with such a strong engine in this car you have no excuses.
You don't need to know the frightning cost of this restoration (!), it's all in the history file, but suffice it to say that clearly it is worth much more than the asking price here, but times are-a-changing and whoever gets this has a remarkable investment and fine driving car that must be used.