1933 L type Magna
It's not so often such a grand old lady comes to the market, but this ones kept her originality and charming good looks!
Whilst the 6 cyl. L type Magna is not loved by all in the 'tourer' configuration, remember it offers many hidden advantages. Power, comfort, SPACE and excl. weather protection make this an ideal model for today's many distance rallies.
Model Type

L type Magna

Style

Tourer

Year

1933

Registration No.

OD 5833

Engine No.

947A 97C

Chassis No.

L0369
£ SOLD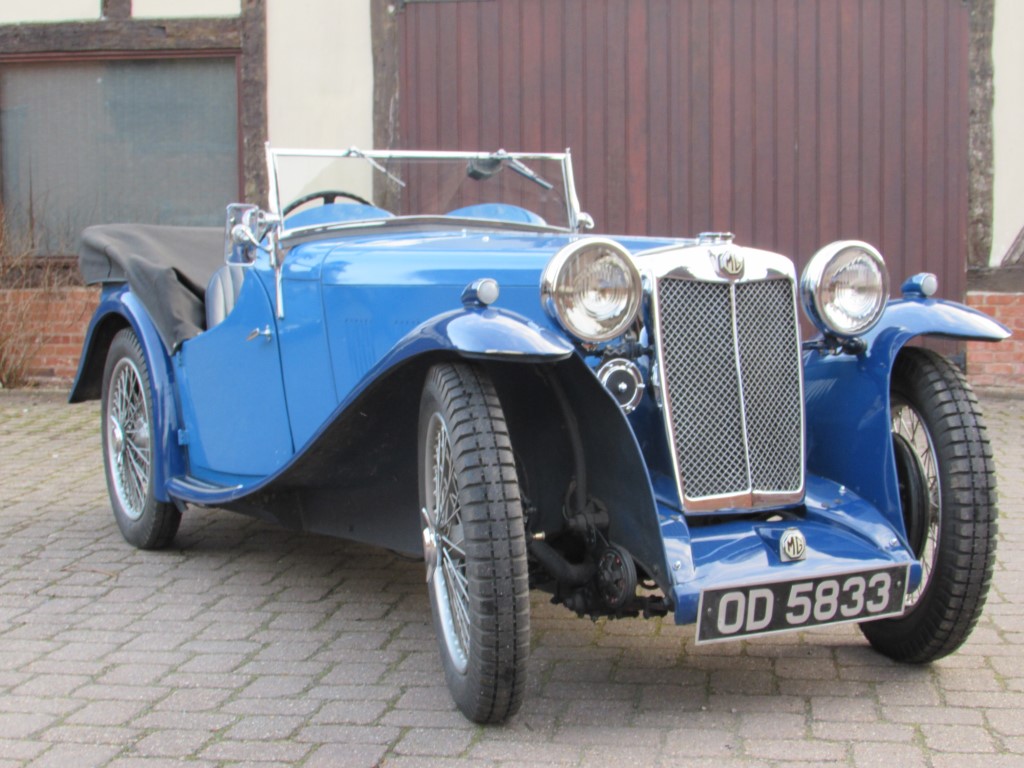 View larger images
As the pre-war MG enthusiast moves into the more elderly age group, the 4-seat tourer models present some significant advantages. Whilst the more sprightly amongst us can still jump over the side, or squeeze into the tightly spaced 2-seaters, the attributes of individual seats, good space for the golf-clubs, room for the dog, grand-children or the even your partner's wardrobe, are advantages that come into their own when deciding to undertake one of today's many superb UK or European touring rallies, which I'm sure we'll all be able to do this year or next. Then on top of this you have the powerful 6 cyl. overhead cam engine that can provide the 'oomph' to do the job properly.
This superb example of the MG 'L' type Magna does all of the above. It is not a 'yesterday rebuild', having gently scarred paintwork, but it is in superb running condition. It has been VERY well maintained, and exudes a genuine and authentic patina from having only had 4 owners from new. Although rebuilt in the early 90s, the car retains most of its factory body, together with its original wings, apron, tank and bonnet. The running boards were replaced, and the interior completely re-upholstered in Cereleun blue leather, with new chroming , new roof, side-screens & full/half tonneau. (Sorry, the seat photos gives impression of grey leather. I can asuure you the seats and interior are correct blue).
The car was bought by the most recent owner over 50 yesars ago with an F Magna engine, and this was replaced by a correct 'L' Magna 6 cyl. crossflow engine which it carries today. This was completely rebuilt, and recently received a fully overhauled clutch, rebuilt headlamps, complete engine and brake service and thorough road test ready for its new owner......that's YOU if you're quick.
Although the car has been stored for many years of its life, which has accounted for a fully documented history from new, it has also preserved so much of its factory provenance. The car is offered with a factory chassis file, factory letters, a resume of all owners and the work carried out.
The detailed photos clearly show the originality and fine condition of this interesting car, and from a professional stand point we feel this particular car is under current market value, but has to be moved on for personal reasons, so don't wait for the Covid-free rush and increasing prices!
This particular car really lends itself to the fitting of a side mounted Marshall supercharger, and the buyer may well consider rolling this into a purchase to earn a worthwhile discount as a 'package'. (For s/charger pics. see 'Parts' section of my web-site).

Visitors are welcome by prior appointment and our Covid rules, as all cars are viewed in the open.