1933 MG J2
EVER WANTED TO BUILD AN MG J2? Here is a project opportunity with a PHOENIX cranked engine, AND still suiting all budgets.
Here I offer you a choice to purchase a 1932 MG J2 'as found', or with all the missing parts supplied.
Model Type

MG J2

Style

2-seat sports

Year

1933

Registration No.

FS 4116

Engine No.

1717 AJ72

Chassis No.

J2448
£ S O L D
Enquire about this car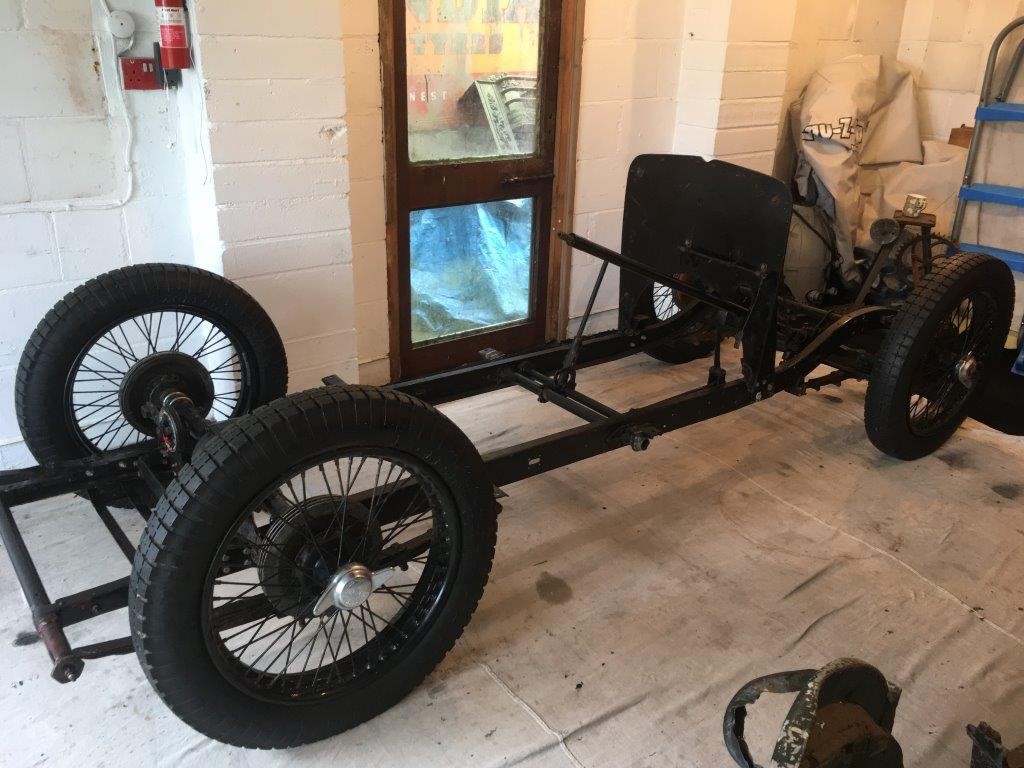 View larger images
MG J2, chassis No. 2448 is an incomplete project for someone on a limited budget. However, all the IMPORTANT bits are there, including a just rebuilt engine with a counter-balanced phoenix crank and Corello rods with vastly improved clutch and rebuilt gearbox.
There is a choice with this car. Either buy it 'as found' with its restored chassis, radiator and shell, old body, valences, tank, apron, restored wheels, new Blockley tyres, full set seats and near complete engine with a PHOENIX crank and much improved clutch..................all for just £13,950 delivered. It's ridiculously cheap, the engine must have cost £7-8000!
OR: have us supply all the missing parts (except new bodywork) and buy it then virtually complete.........for £16,950 delivered. (You'll need c/wings, wing stays, a dynamo, dash, gauges, hood frame, lamps, etc.)
Either way it's a bargain.
So what did we find: clearly the previous owner, (now deceased) had started an excellent restoration fully finishing the chassis with restored frame, suspension, hubs, brakes, rebuilt wheels, new tyres and begun work to the engine which has been built with a Phoenix crankshaft, Corello rods and high quality pistons.
The car was then left and the chassis has tarnished a bit, but the engine is perfect.
I would recommend a new body tub, unless you're handy with a saw, although the original factory body is there, and the other body parts are in excellent order including bonnet, tank, valences, spare wheel cradle & front apron. No c/wings or stays.
Engine, gearbox, remote, prop, differential, steering, shock absorbers and all other running gear is there, so too is a firewall, set of new seats, and boxes of small parts. Like the more complete 'F Magna' I am also offering, this is one of the best 'start-from-scratch' projects I've seen for ages and with the opportunity to buy 'as found' or increase your budget to make it more complete, you can use your budget to make the decision. It is great to know you can get everything as you progress, or get it all now and save money at the offered price if you feel more comfortable.
Do come and view this, you'll be amazed how interesting this is; and in addition it has retained its original original registration No. from new, a factory chassis file and DVLA V5c.
Enquire about 1933 MG J2
Privacy notice: the personal data you enter here is only used by Barry Walker MGs to contact you in regard to this car. We do not share your details with third parties nor will we contact you further without permission.