1933 MG J2
The true 'Barn Find'. Dismantled but untoched for 58years!!
"The perfect project". A complete running MG J2 dismantled in 1962; everthing there except the bodywork. Read on, it's fascinating.
Model Type

MG J2

Style

2-seat sports

Year

1933

Registration No.

AGC 727

Engine No.

1822AJ

Chassis No.

J2/3022
£ SOLD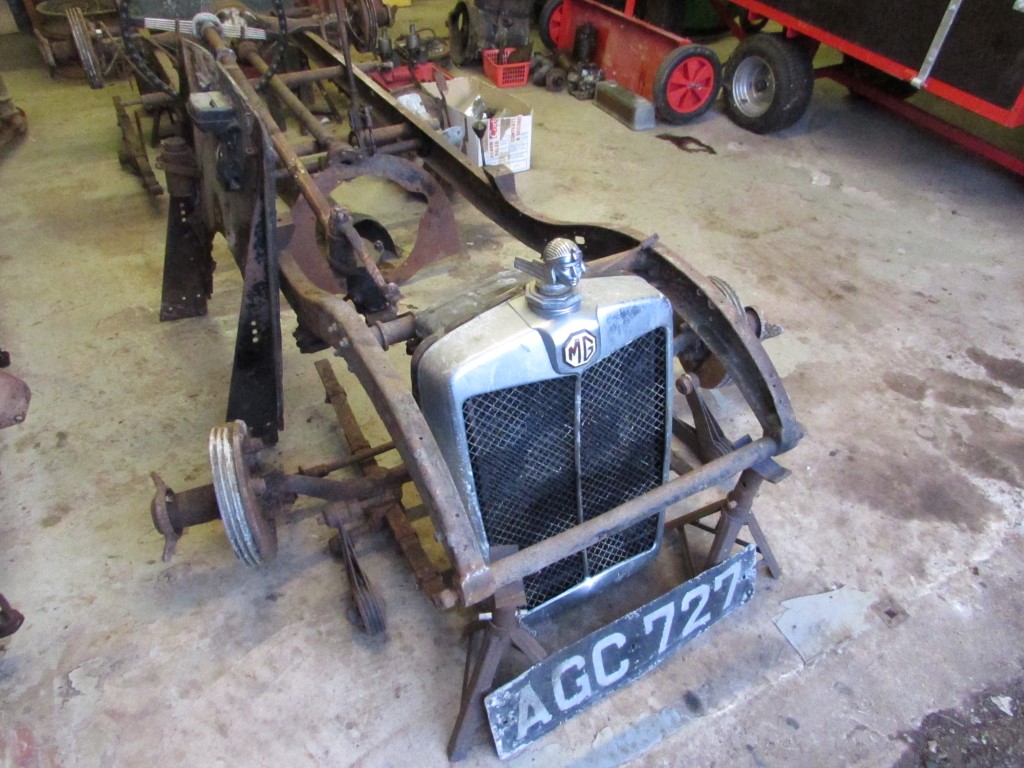 View larger images
We had a very harrowing phone call from an ederly gentleman who was not at all well. We were invited down to extract a dismantled MG J2 from various barns on his farm that had not had the padlocks undone for over 10 years. Well, after hours or struggling with my mate, (who thank goodness has 10 times the strength of I), we found and saved everything except the bodywork that was crushed and beyond saving.
The photos show you everything. We have given it a dry run to make sure everything is there. The following is NOT there:
Any bodywork or wing stays (although the tank, bonnet & an excellent(!) spare wheel cradle are there and OK).
1 wheel
2 rear shock absorbers (can supply)
a dash panel & gauges (can supply)
seats
tyres
It is exciting that this car has never been recorded with the MMM register, and thank goodness the chassis is clearly stamped, the original guarantee plate is in place and the registration no. is known.
All parts need alot of cleaning and preparation having been stored for almost 60 years. If this is too much for you, buy the other J2 project on my web-site!!
The original engine threw a rod and broke the crank (heard that before), but now has an excellent original block with a crank only 30thou down. The engine is complete, together with all manifolds, ancillaries,, dynamo, s/motor, rocker box, and original OM series carburettors.
The gearbox is complete in all respects, turning in all gears with ease. Closer inspection revealed virtually unworn gears, probably accounted for by the car being removed from the road in 1962 and having been used for barely 30 years from new.
The car, being a cycle wing model, has a chassis frame that is really sound with no corrosion at the front sides unlike the later cars with long wings that suffered water retention. It is complete with all cross-tubes, road springs, axles , brakes, shafts, and complete handbrake assy. It is clearly factory stamped (J3022) and has the original firewall with accelerator, regulator box and original factory guarantee plate still in situ.
The steering is complete and untouched with drop arm and Brooklands steering wheel, original trackage and steering arms.
Additionally, the bonnet is there (clealy stamped J3022), a pair of side valences with original bonnet catches, rain channel, hood frame with pivot brackets and a complete windscreen with wiper & wiper system all in place.
The car is lacking in cosmetics, but head & side lamps present. All 'chromy' bits are readily available off the shelf.
The car is completed with an excellent radiator that had a new honeycomb core fitted just before the car retired, so is as good as new. This is clothed with an undented (never rechromed) radiaor shell that sports a good wire mesh grill and a rare 'Pharaoh Head' radiator mascot!
I accept the car is cheap, but we obtained it reasonably cheaply, and we trust the buyer will support us with good spares orders in return for such an attractive price. You can see above what is needed, and everything present is in good condition, but of course needing full restoration.
The car comes complete with factory chassis file, manual, and original registrtion No. Delivery UK mainland at cost.