1933 MG J2
An MG J2 project with so much of it totally restored it will take little time or funds to finish it AND it's all correct!
Whether this is your first or last project, this offers the oppotunity to complete the original MG J2, or do it as a J3 OR J4 rep. with ease and little expense. Read on.
Model Type

MG J2

Style

2-seat sports

Year

1933

Registration No.

TL 2971

Engine No.

1624A / J72

Chassis No.

J2530
£ SOLD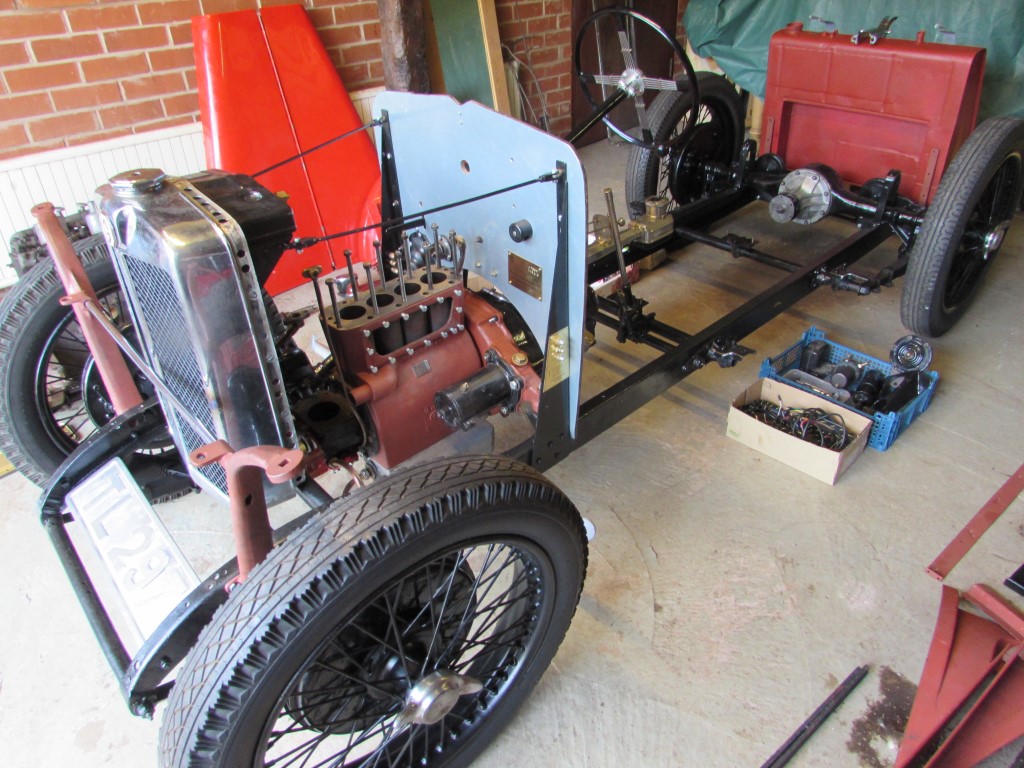 View larger images
Looking for something to do this winter? Well, with very little further expense, and much of the heavy work done, you have here the oppotunity to complete an MG J2 that is virtually complete except for a body tub & screen and a speedo! Could therefore offer the opportunity to be completed as a J2 or a J3 or a J4 rep.
Due to ill health the previous owner could go no further. The chassis has been fully restored, including springs, axles, hubs, wheels, handbrake assy., steering, trackage, new shock absorbers, 12" J4 brakes, propshaft, differential, etc., etc.
There are nearly 2 engines, with that in the car just begun , by using and restoring all the bits from the second engine, bit at a time. Nothing is missing, including a tested & ground original crank (now confirmed by previous owneer) with fully floating rods, and brand new Hepolite pistons. Rebuilt starter motor, rebuilt dynamo. As yet UNrestored, but carefully checked for completeness: cyl. head, cam stands, vertical drive, all manifolding, and original carburettors.
The gearbox has been fully rebuilt with remote, brackets & choke/idle rods.
There are 2 old alloy dashboards, with complete instrument cluster , dashlamps, horn button, water temp., and original clock. Only needs a speedo. (We have stocks in our spares dept.)
All the components are present for the new firewall incl. pump, coil., elec.box, stater switch and accelerator c/shaft. There is a tray of bonnet catches, door furniture, wing bolts, rubbers, and side lamps.
There are a pair of unfinished new Rotax K 624 headlamp shells, rims & lenses, and also a set of Lucas L140's and fully restored original rear lamps on the correct double eared mounting plate.
Moving to the bodywork, there is no tub, but there is an unidentified wood kit which did not come with the project, but is offered free with the deal but may not be J2; otherwise a body tub can be ordered from ourselves or others. However, it is ONLY the tub that is needed bodywise as the car comes complete with excellent orig. fuel tank, 4 excellent orig. cycle wings, the original bonnet (stamped with chassis No. & orig. car colour), brand new under bonnet side valences, the orig. scuttle top, bulkhead plate and front apron.
In addition, there is a fully rebuilt radiator, excellent radiator shell , set of aero screens, wiper system, new spare wheel cradle, and spare wheel.
Finally, there is a complete new set of sage green leather seats and a full roll of matching interior panel material. To complete this quite superb package is a lightly worn roof, a pair of new sidescreens and the orig. hood frame.! The whole thing is amazing value at this much reduced price.
(If you do not want a green interior, this can be deleted and the price reduced accordingly by negotiation).

All DVLA paperwork, V5c, original buff log, and J2 Manual.
It has to be one of the best MG J2 projects available for years, and way, way better value than an 'old runner' with the usual 1950s mods. of hydraulic brakes, Ford engine and all that goes with that..........
It has been available for many weeks with only one viewing. If nobody wants an original cycle wing MG J2, we'll be forced to break it for spares.......I sincerely hope that's not the case.