1933 MG J2
REDUCED in price, but what a fabulous J2, properly restored and so, so original.
A very interesting factory built de-luxe model with numerous period extras.
Model Type

MG J2

Style

2-seat sports

Year

1933

Registration No.

LJ 7641

Engine No.

2868 AJ

Chassis No.

J 3154
£ REDUCED £36950
Enquire about this car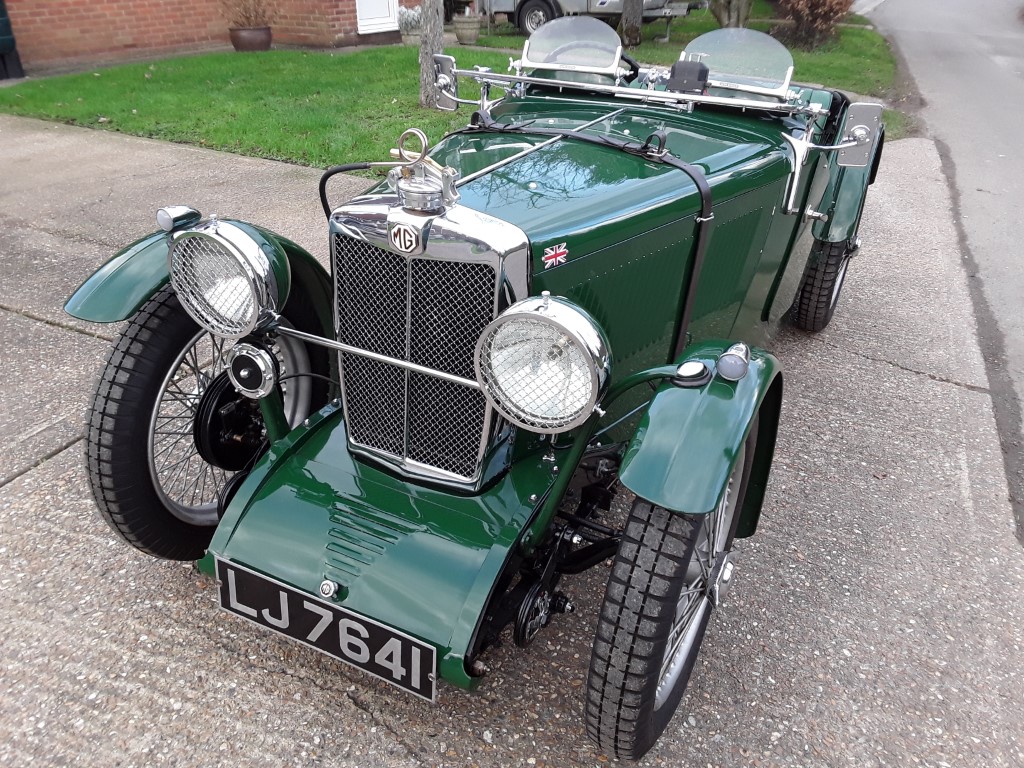 View larger images
This car is more than deserving of its price, and with prices beginning to rise slightly , this will not only be a lovely usable J2 , this will be a genuine investment as well.
Released from the factory in March 1933 as a cycle-wing de-luxe J2 model, the car has remained true to its roots and still sports special equipment originally supplied as detailed below.
Rebuilt from the chassis-up in the late '90s/early 2000s, the car has had a very easy life with some 3000 miles since restoration, and shows virtually no signs of any real wear. The chassis has been fully restored with all new pins, rebuilt friction shock absorbers, new hubs, drive shafts and rebuilt differential. The Marles Weller steering is excellent (often a weakness on these cars) and the brakes have been completely overhauled with our 'soft-grab' linings. The chassis is completed with new 19" outer laced wheels shod with original pre-war pattern new Blockley 3-stud tyres.
The engine has been very well built with all new head-gear, crack tested and balanced crank, double vertical drive lip seals (to prevent oil into dynamo) and extra front crank bearing modification. Everything is fully detailed under the bonnet with correct OM series carbs, correct foot starter, sports coil and CJF2 cutout/fuse box. The 4-speed (& reverse) close ratio crash gearbox is really smooth and makes for quick sporty changes.
The body tub is a new ash frame tub, skinned in alloy with original steel bonnet, flat-back tank and correct pattern cycle wings. This has been painted when cellulose paint could give you a marvellous deep finish, in this case Jaguar '72 Br. Racing Green, and has been further complimented by a wonderful set of Collingburn Apple green bench seats , with matching interior trim and black wool carpets. The car is finished with virtually unused roof, s/screens and full/half tonneau cover.
The dash has been fully rebuilt to the original de-luxe specification with original 5" 0-100mph speedo, passenger side cluster panel , 2" 8-day clock and water temperature gauge. Furthermore the car sports quick release filler caps to both tank and radiator, centre mirror, right hand AND left hand rear view mirrors, aero screens, headlamp stoneguards and finally a bonnet belt. (Nothing extra left for me to sell you, except perhaps a tool kit!)
This is truely a stunning car worth much more in rebuild costs, and one that will give real pleasure , whether it is just road use, light competition , rallies or touring events. Remember, these cars are better for being used, and with better weather coming, now is the time to buy and be ready for all summer has to offer.
Please ask if you have any questions, but I have tried to cover everything.
Cars of this quality sell quickly , so please ring or e-mail to make an appointment to view.
Enquire about 1933 MG J2
Privacy notice: the personal data you enter here is only used by Barry Walker MGs to contact you in regard to this car. We do not share your details with third parties nor will we contact you further without permission.