1933 MG J4 rep.
One of the finest J4 reps to have passed through our hands.
A magnificent car, with a superb specification, provenance & pedigree.
Model Type

MG J4 rep.

Style

Sports

Year

1933

Registration No.

HY 7565

Engine No.

1427AJ

Chassis No.

J 0431
£ SOLD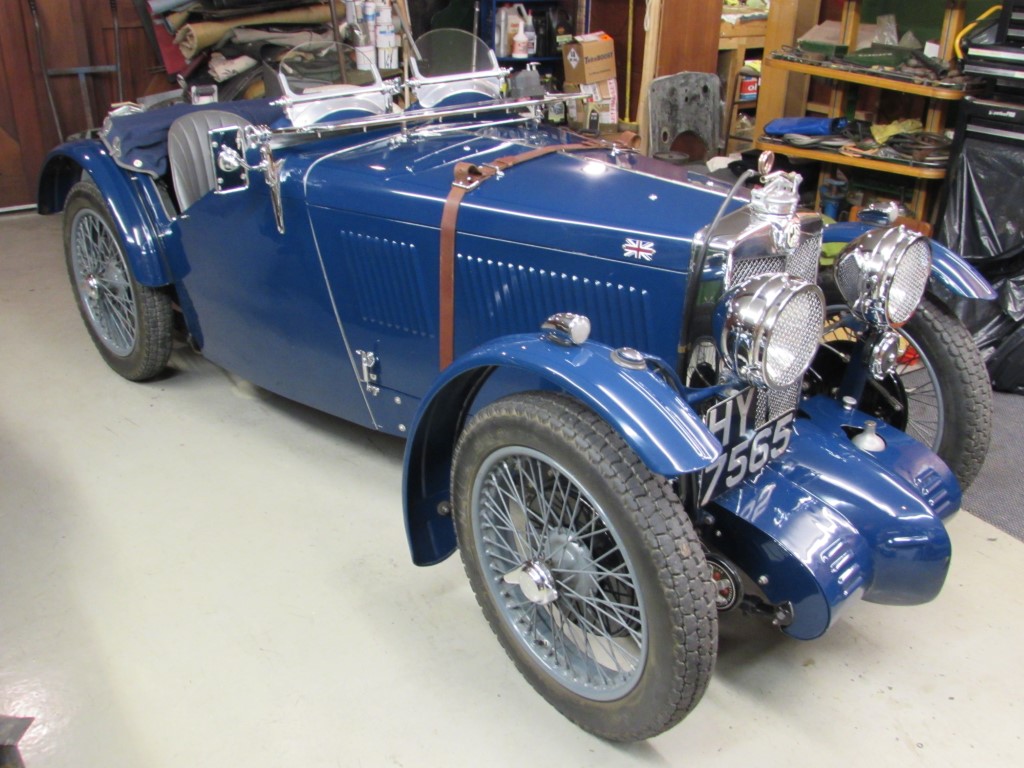 View larger images
Whoever buys this will have one of the finest J4 reps to come to the market. Being built by 3 of our best MMM engineers [Barry Foster/Charles Jones (Baynton Jones) and Oliver Richardson], has enabled this car to receive a superb specification, incorporating all the fine detail that only the J4 received from Abingdon. Read on now to see how why I say this.
Rebuilt from the chassis up for a meticulous & knowledgible owner this car is in fabulous condition, as the photos show, having covered barely 1500 miles since completion, but having covered enough mileage to iron out any bugs.
Chassis rebuilt entirely, and fitted with high tensile half shafts., nickel plated front axle & steering arms, split track rod steering, 12 inch J4 brakes, Adamant steering box and high ratio rear axle. Axle tramp straps and Hartford rivetted arm shocks all round, finish a very high spec J4 chassis.
The engine is superb, fitted with counter-balanced crank, Corello pattern rods and highest quality forged pistons. All new head gear, fully rebuilt original dynamo, s/motor and double vertical drive oil seals to prevent any seepage to dynamo. Lightened flywheel, new ring gear and proper twin plate J4 clutch assembly. This excellent engine is supercharged through an original nose mounted Centric 160 vane operated supercharger, with trouble free oil supply and bronze HV3 carburettor.
Coupled to the engine is a genuine ENV cross-tube mounted gearbox with close ratio gears, plus cabin accessed wheel for easy footbrake adjustment (used by these cars when competing in long distance events to avoid unnecessary pit stops).
The J4 bodywork is of very high quality, and is fitted with correct pattern bonnet, J4 fuel tank and correct pattern front apron.
The dashboard is both correct and exciting, with WORKING Hobson Teleguages, 6 inch 0-8000 Rev counter, full set of six 2- inch gauges, Ki-gass pump, horn button and correct bank of hexagon lever switches.
Unlike many of these sports race cars, this example carries a full windscreen, as well as a pair of proper MMM plinth mounted aeroscreens , headlamp stoneguards, plus full roof and full/half tonneau cover.
Beautifully upholstered with grey interior, grey leather J4 bucket seats giving terricfic leg room, plus 16 inch steering wheel makes for ease of access for even the tallest man.
The car has undergone a full service in our workshop, thorough engine & brake test to 80mph and front to back valet.
Whoever gets this, gets a good one. You could not contemplate buying a donor car and building to this spec. for the price offered and you can have no hesitaton in buying this site unseen on photos, or your money back. Of course you're more than welcome to visit & inspect under strict Covid rules. Just ring for an appointment.
The dissapointment comes........only in missing it!