1933 Supercharged J2 midget
1933 Supercharged MG J2 sports, built for fast road use and light competion (hillclimbs/trials).
Perfect for someone wanting a little more from their ownership of an early MG....read on.
Model Type

Supercharged J2 midget

Style

2-seat sports

Year

1933

Registration No.

EY 4665

Engine No.

2981AJ

Chassis No.

J2/3643
£ S O L D
Enquire about this car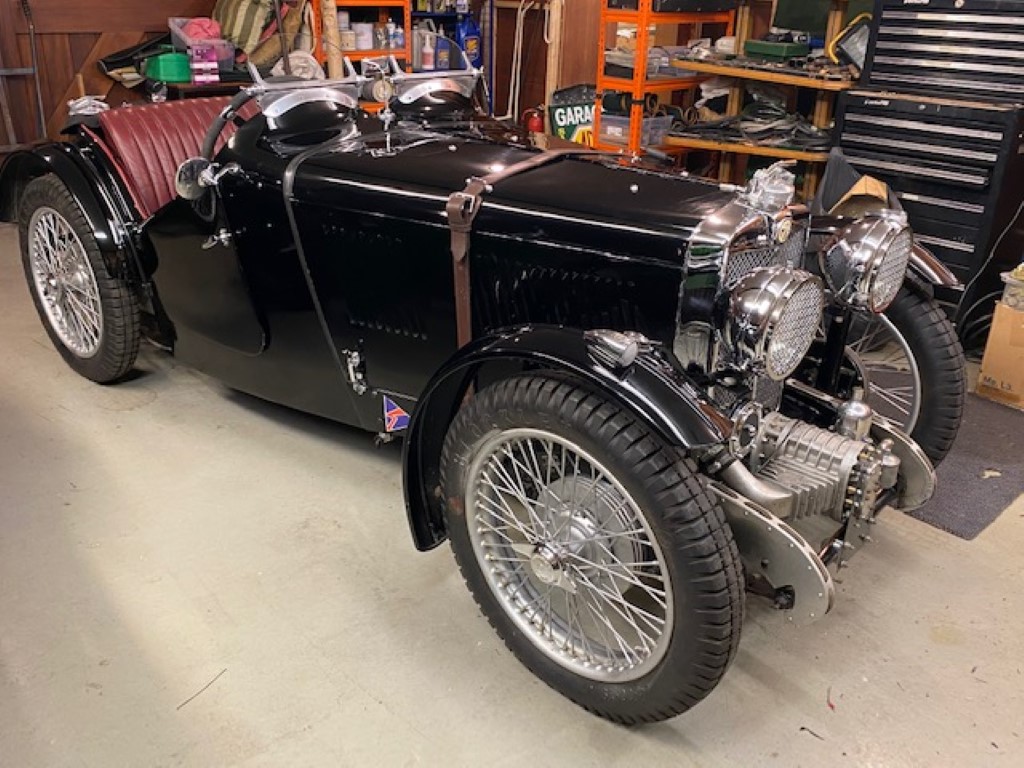 View larger images
This is a well respected car in MG circles having been campaigned in both VSCC and MGCC events. Following a successful light competition career, the car was rebuilt and is now offered for sale with all that potential at the next owners' finger tips. Whether you just want reliable fast road use, or get involved with hill climbs, sprints or rallies, the choice is yours.
The restored engine is built with a fully counter-balanced Phoenix crankshaft and Corello pattern rods with shells, and powered by a nose mounted Marshall supercharger and close ratio gearbox. The car sports a J3 dashboard, aeroscreens, detailed engine bays, excellent steering and high ratio rear axle.
The paintwork in Raven black is exceptional for a well compaigned car, and the upholstery is no less than Collingburn's, in deep red Connolly hide, when such good work was available. The chrome is superb and stoneguards grace the original Lucas lamps. and a 3-part bonnet belt finishes the closure of the bonnet.
I've been told I've underpriced this lovely car, but thereby hangs a tale. Because the car had been used in light competition, the roof, the frame, front apron and windscreen had been removed and set aside for reinstatement after the recent rebuild. With the demise of the owner and before these parts were fitted back the owner's wife decided to clear the garage and the items were unwittingly sold, leaving the car less a screen, hood and front apron, and hence why we have more than covered these in the low price. All are readily available if required, though there is a short tonneau and aeroscreens on the car . The attached photos show all you need to know.
Nice to find a car in sound reliable condition, without being concours, with terrific potential and smart enough to hold its place at any show or event.
Hoping this finds an enthusiastic owner ready to use this car, for it is far to good to be used only on the occasional Sunday run. Phone for an early visit and test drive, but bring a change of underwear!
Enquire about 1933 Supercharged J2 midget
Privacy notice: the personal data you enter here is only used by Barry Walker MGs to contact you in regard to this car. We do not share your details with third parties nor will we contact you further without permission.