1933. The ex Vic Derrington MG J2
A very rare chance to secure one of the few J2's that raced at Brooklands.
An really immaculate restoration of a historic MG J2.
Model Type

The ex Vic Derrington MG J2

Style

2-seat sports

Year

1933.

Registration No.

APF 605

Engine No.

1487AJ

Chassis No.

J2781
£ S O L D
Enquire about this car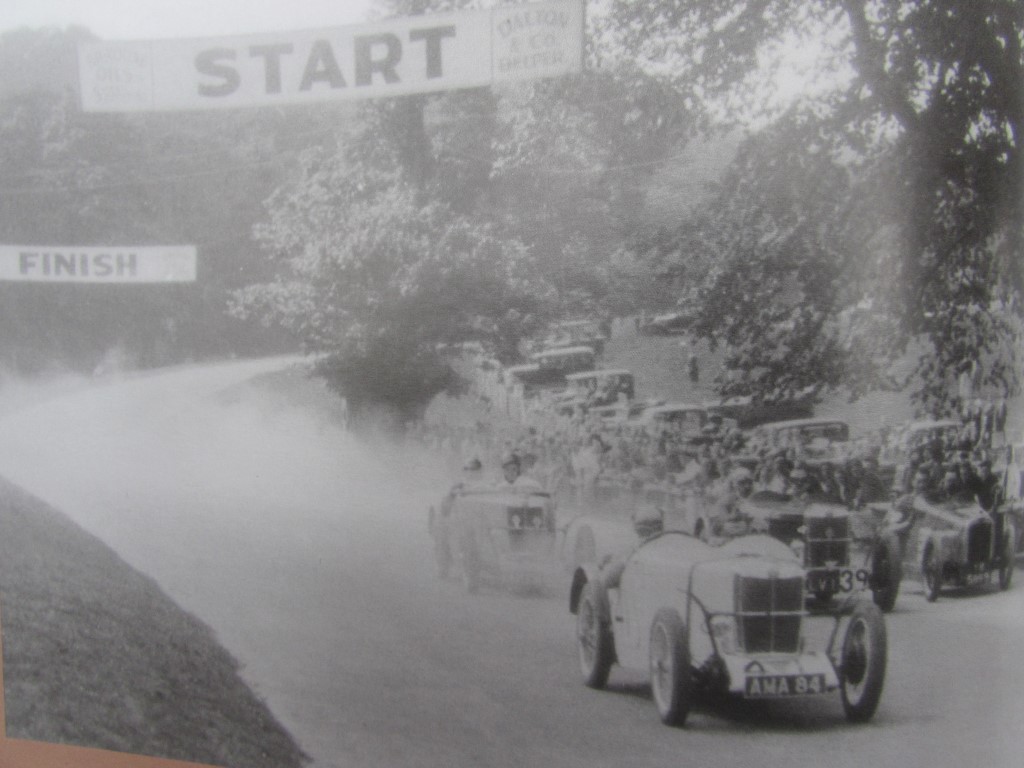 View larger images
(Since the photos were taken, in response to urgent requests), we have now made certain 'originality tweaks' (cable ties, ampmeter, coil) to the standard I wish, to make it EXACTLY right!
Here is the opportunity, not only to buy one of the finest restored MG J2's in the world, but one that has a genuine, although brief, race history at both Donnington and Brooklands in the hands of Vic Derrington (Derringtons of Kingston). Added to that it is one of the very rare MGs that has its complete history back to Day 1, has been owned by myself for almost 40 years , graced the front cover of the original "Pre-war MG Parts Centre" catalogue. and is fitted with a J3 specification engine.
Delivered new in May 1933 by Derrington's of Kingston to Henry Stone of Ilford, it was quickly back in the hands of Vic Derrington who entered the car for the Donnington race meeting later that month to gain 2nd. place. Derrington continued to campaign the car entering the JCC Members Meeting at Brooklands in the September. (All records available).
(In the Donnington photo, APF 605 is the car behind J2 Reg. AMA 84).
The magnificent history includes the ORIGINAL sales invoice from Derringtons, correspondence between Stone and the factory, a copy of every log book from new (incl. later originals) and a copy of the Brooklands entry field for June '33, another Brooklands event for the car.
When I bought the car in Beckenham, Kent in October 1968 for £75, the owner was most apologetic regarding the Ford E93A engine then fitted! My desire to put that and many other things 'right' started my life-long interest and subsequent business in MMM and early 'T' type MGs. This was also the car we used as the subject of a marvellous water colour painting by Richard Geiger that graced the front cover of the original 'Pre-War MG Parts Centre' Catalogue, which I know many of those reading this still treasure.
AS can be repeated a thousand timesI expect, I dismantled the car in 1970 (after my then girlfriend was not impressed by our failure to get home from chasing the 'Brighton Run' that year) and of course never finished the rebuild as the business took over. However, I never stopped getting things done to the J2 and when I finally sold it to Paul Marsh (my solicitor) in 2006, it pretty much only wanted assembly and the engine completing.
Paul entrusted the engine work to Baynton Jones (all invoices to hand) where it was built to J3 specification with a Phoenix c/balanced crank and rods, Cosworth pistons, J4 front housing with water pump, supercharger coupling to front of crank,(for ease of s/charging later), Barry Foster 4-branch exh.manifold, lightened flywheel, lightweight factory 7.25" clutch, and 12" J4 cable brakes all fitted to provide high performance and reliability. The new body was built using many of the original factory body timbers and alloy skinned, all by Wilkinsons of Derby who also painted it in Monza Red in their Rolls Royce workshop by real craftsmen. The upholstery was by Mike Collingburn himself in grey Connolly hide with all new double duck canvas weather equipment.
All gauges were by John Marks of Vintage Restorations, and new wheels fitted and shod with Blockley 450 x 19, 3-stud tyres and tubes. THE RESTORATION IS NOTHING SHORT OF IMMACULATE.
Regretfully Paul Marsh died in 2018 and the car passed briefly through the trade to the last owner who purchased it as a present for his ailing father beforehe died. Untouched, from when Paul finished it, I now offer this historic car to somebody who will cherish its unique history and use it for the purpose it was built for----believe me, it's quick!
Restorations of this quality, with continuous history and genuine Brooklands race history do not come cheap, but few std. J2's could compete. Please call in, any test drive, we look forward to showing you this exceptional MG.
Viewing by appointment only please.
Enquire about 1933. The ex Vic Derrington MG J2
Privacy notice: the personal data you enter here is only used by Barry Walker MGs to contact you in regard to this car. We do not share your details with third parties nor will we contact you further without permission.