1934 A Historic MG PA
S O L D.
It is very late in the day to be turning up cars with such a proven provenance as this, but if you want to own a piece of original Abingdon history, now is your chance.
Model Type

A Historic MG PA

Style

2+2 tourer

Year

1934

Registration No.

JC 2222

Engine No.

1507 AP

Chassis No.

PA 1249
£ SOLD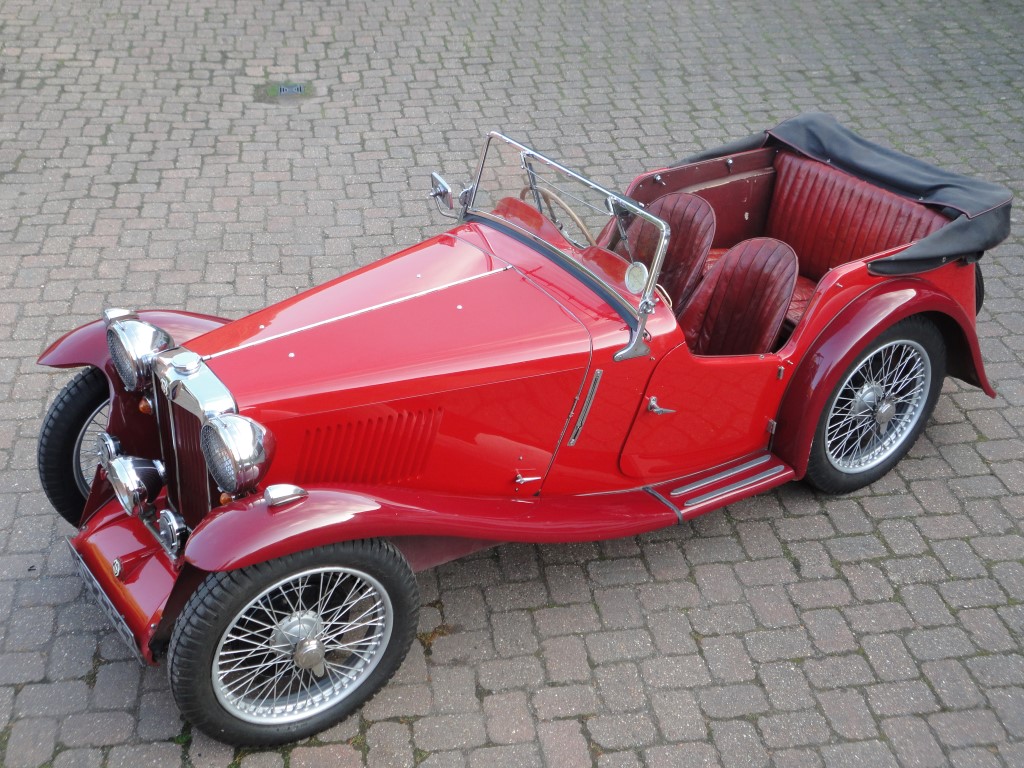 View larger images
Well, were do I begin! Clearly this is for someone who really wants an ORIGINAL car, and an original car in very sound solid driving condition. Yes, not everyone fancies a 4 (2+2) seat version of the MG 'P' type, but with a provenance like this one, the use of the extra 2 (child ) seats, the extra room for the golf clubs or the wife's weekend luggage they combine to make this rare example very, very desirable.
I bought the car from the original owner Mr. Robert Baxter of Llandudno back in 1995 with a confirmed mileage of 42,000 . The car was delivered new in 1934 to Links Garage Llandudno and used for a few months as their demonstrator, when the following year Mr. Baxter bought it (aged 18). He ran the car with loving care until 1959. During this time he entered it for the 'flying quarter-of-a-mile' at Southport Sands after his great friend Gilbert Emery (who ran the 'Links Garage') had it tuned by Abingdon and a genuine 'works bronze head' fitted, and then drove it UNsupercharged at Southport at a recorded 94mph!!, some 6400rpm. (Just shows you you can rev. these MMMs?)
In 1959 Mr.Baxter put the car up on blocks (sensible man) where it remained for 39 years . Very interestingly he fitted a set of PB radiator slats during this time as he didn't like the false honeycomb grille, and bound the front springs with cord; he added an important speedometer and centre spotlamp, and all still on the car today.
I realised on inspecting the car back in 1995 that I was looking at something special. I had never seen an MG with all its ORIGINAL factory fittings, matching numbers, original air cushioned upholstery, original carpets and weather equipment (now renewed, but copied stitch for stitch from all the original roof, tonneau, s/screens, still with car)). The car has NEVER been taken apart.......and this is how it remains today, albeit with just 11,000 extra miles on the clock.....no problem for this original factory engine as we shall find out in a minute............
I got the car back and sold it to a gentleman in Hertfordshire, but he did not use it and sold it back to me within a few months and I have not counted him as an owner. I took the car to the Classic Car Show in 1997 where I found the RIGHT man for this important car. I am happy to say that he has nurtured, maintained and respected this car for the last 20 years, leaving the originality exactly as it was when he bought it in 1997. However, when leaded fuel was no longer available from 2000, my 'man' had the sense to have the cyl. head restored with new components and hardened valve seats, etc. To his amazement he found the engine had a factory bronze cyl. head and a compression ratio of 7.25:1. (Mr. Baxter had confirmed that when he first had the car and had had Abingdon 'tweak' the engine (for the Southport Sands races).
Not only is the car in superb running condition but it comes with the following : the original air cushioned rear seating by 'The self Controlled Air Cushion Co. Ltd.' of Manchester (suppliers to Abingdon); the original 1930s invoices/receipts; the ORIGINAL factory spare plugs; all the original weather gear; the ORIGINAL tool kit, and every tax disc except 1936 (but that exception is another story for the next owner) ; the original factory manual and illustrated spare parts list, and to top all that the ORIGINAL factory Guarantee signed by Cecil Kimber himself!
There are numerous magazine articles, all of which go with the car.
Finished in it's original duo-tone reds with factory interior, I am looking for another person who will love and respect this car and keep it as a source of reference and history, but at the same time not lock it in a museum, as the wider MG enthusiast would never get to see it, and unless very carefully stored, NOT using them does our cars little good.
If unsold, I will have this car at the Int. Classic Car Show at the NEC in November, but I doubt it will last that long if the 'right' man comes along shortly.
(Better than any money in the bank!.....right?