1934 MG PA
What a super thing this is. Can't believe I still excited when a really good one comes in!
Beautifully restored throughout and maintained equally well by last owner. Sold only for personal reasons.
Model Type

MG PA

Style

2-seat sports

Year

1934

Registration No.

MG 3497

Engine No.

590/135A

Chassis No.

PA1255
£ S O L D
Enquire about this car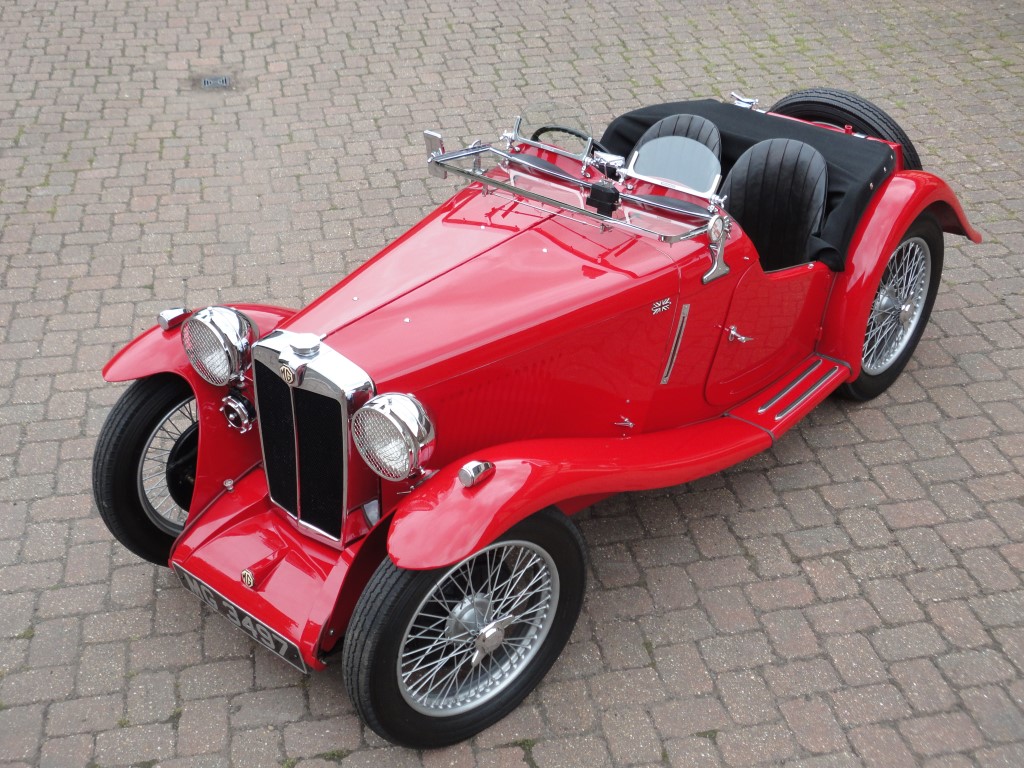 View larger images
Yes, what a super thing this is, and at such a good price. Although largely restored back in 2010 , it has only covered a little over 5000 miles with continual improvements over that period, to present today as one of the best value 'P' types I've had for a very long time.
'Poppy' as she is known, was rebuilt from the chassis-up with a new body frame; the car has retained all its original wings, bonnet , apron, etc. The detailed engine runs as it should, and has beneftted from a recent top end o/haul, carb refurbishment and electronic ignition to the original distributor. Factory fitted water pump, as well as a removable Kenlowe rad. fan. Never fails to start or charge, bang on the button, and very reliable having undertaken a number of the recognised MG club rallies.
The lovely 'sequoia' wood dash is the deluxe version, with the extra gauges of clock, oil & water temps., together with the standard passenger side cluster panel, 5" rev. counter and centre mileage counter with the original factory supplied switches.
The high quality leather interior really makes this car. It is fitted with the more favoured twin bucket seats in dark brown leather which give greater leg length over the bench option, with matching panelling, passenger foot rest and black wool carpeting. Looking at the weather equipoment , this is complete with roof, sidescreens and full/half tonneau cover, none of which has seen any real use, and is clearly brand new in black double duck canvas.
The chromework and electrics are as you would expect. The original Lucas L140 h'lamps, wired for double dip on both lamps are superb with fitted stoneguards; correct Lucas 1130 side lights, and Lucas ST38 'Pork Pie' rear lamps, full w/ screen and correct twin wiper system. There are discreet turn signals in side lamps , and a removable
bright rear light (disguised behind spare wheel) to stop exhuberant BMW drivers belting you up the arse!
This lovely MG is finished in Saratoga red, with dark brown leather, aeroscreens and h'lamp stoneguards. You really feel proud driving this, and the turn of speed is quite deceptive.
There is a huge history file, factory records, original style log book, original 'MG' registration from new and full current DVLA paperwork to complete. What a fine overall package for the coming year.
There is the option to fit a factory specification 'under the bonnet' supercharger installation, when your departure from the traffic lights in front of the cocky Aston driver will have even him wondering how you did it. These instyallations are in stock for purchase with the car, or later when you have got used to it.
These pre-war MGs are now incredible value at the new lower prices, and must surely be more fun than than boring conventionalinvestments.
Don't leave it long, for me to tell you its sold.............a fabulous Christmas present from the wife (joke), or even to yourself?
On show, in the shop........just ring to make an appointment.
Enquire about 1934 MG PA
Privacy notice: the personal data you enter here is only used by Barry Walker MGs to contact you in regard to this car. We do not share your details with third parties nor will we contact you further without permission.