1934 MG PA for RESTORATION
This car has very quickly been saved from me & my hacksaw! Awful thought. Well done the buyer!
Totally original, all matching numbers, V5c, never been out of Scotland, requiring complete restoration, but this is a COMPLETE together and CORRECT car. What a wonderful project. Full details and photos below. DON'T MISS THIS ONE.
Model Type

MG PA for RESTORATION

Style

2-seat sports

Year

1934

Registration No.

US 5597

Engine No.

747AP

Chassis No.

PA 0508
£ SOLD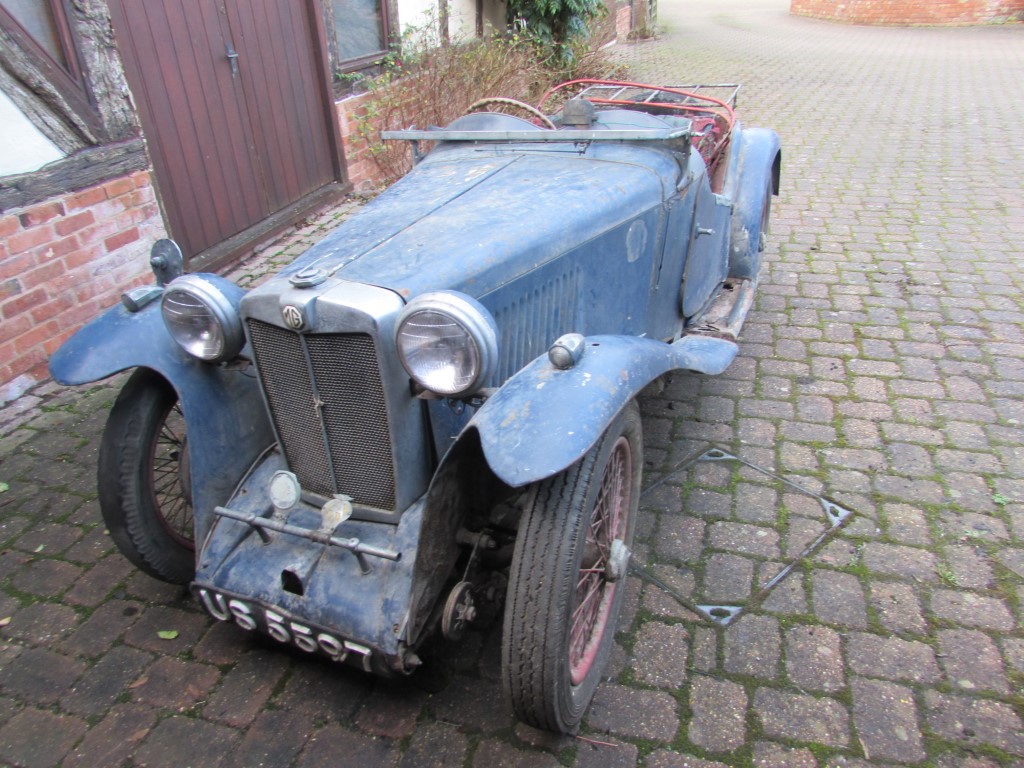 View larger images
Please note: that although the original licensing authority referred to this car as a '2-seat tourer', it was NOT a 4-seat tourer. It was a 2-seat sports from new, as confirmed by the original factory chassis file & MMM Register. So do NOT be mislead by the word 'tourer' on original log book .

Surely there can't be many more like this. Barely 30 years old when driven into this (luckily) sound dry barn, and left there in the hope it might restore itself!! Alas not, but here we are 58years later, and although nature has waved its wand to take a toll on the body and running boards, it cannot, and has not, spoilt the originality of this remarkable find.
Yes, it will need a new body and running boards, but chasssis, engine, dash, rad., shell, gearbox, shock absorbers, screen, are all original, and those that it left the factory with, i.e. it has genuine all matching Nos.
I haven't tried to start it, and I recommend it isn't , just to be sure nothing is damaged in the attempt. Just needs quietly taking apart and restoring. I understand from the previous owner that it is standard bore and standard crank dimensions, but I can't guarantee that without dismantling it, but having had such a short life that advice is probably true.
It DOES need a complete restoration, looking very forlorn and down-at-mouth; but .......with everything there, it is going to be a far cheaper restoration than one in bits and worth a lot at the end as it has all matching Nos., original registration from new and a clear provenance that can be traced.
The car was originally factory green, and the ORIGINAL factory green seats are still in the car , albeit only for exact patterns, and under the replacement PVC panels I can see the original green leather cloth. Although not in photos, I've removed the rotted Scottish tartan to reveal the original green leather seat bases as well as the bench back shown.
The photos speak for themselves and I have found the original reverse gear lock, but not the second choke knob, but I might. In addition the original hood, sidescreens , hood frame, frame supports and crank handle are all there.
Don't leave long if you have a real interest. THIS is a car you can buy sight-unseen as you're going to strip it to the chassis anyway, or you can visit under the normal Covid rules for shops.
We can deliver mainland England. Main thing is to secure it, and get it, as I'm unlikely to repeat this for a very long time, although this is the FOURTH unrestored pre-war MG car I have found this year! This one is recorded by the MGCC MMM register No. 3369.
(For those new to pre-war MGs, rest assured that the availability of spares and advice to rebuild this lovely old car are the least of your worries).