1934 MG PA Midget
Such a lovely car to drive , and nobody has bothered to view it?
A very, very original PA. A real drivers' car.
Model Type

MG PA Midget

Style

2-seat Sports

Year

1934

Registration No.

HG 2584

Engine No.

2355AP/165P

Chassis No.

PA 0364
£ SOLD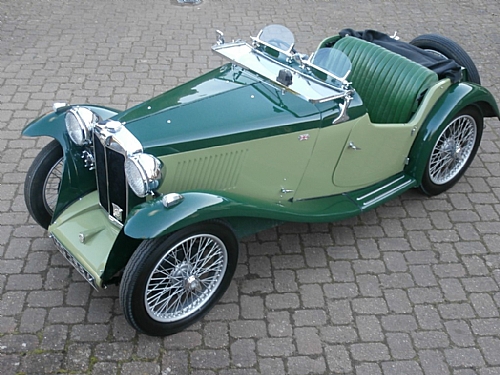 I'm getting upset that nobody has been to view this lovely P type. Out in it recently and it's super. Far worse examples have been bought for more (they come crying to us!) so why not get one that you won't have to spend on, AND a huge PRICE REDUCTION!!
This very original car had been in long term ownership and storage. The car had run down cosmetically, but we found it to have excellent mechanics and bodywork. It warranted a thorough refurbishment, so we undertook this over the past few months in our own workshop. Well,we have been right through it, and following a full engine and chassis service and full cosmetic overhaul the photos speak for themselves. The paint does show signs of patina, but that's nice and we've left that alone.
The bodyline, wing flow and 'door shuts' are excellent; the fittings are all original; and from new, the car has had a deluxe dashboard, dual breather engine and water pump.
This P type has excellent steering, a very smooth and quiet gearbox; it is light and very easy to drive.
It is now offered in superb condition, not a concours car , but with deluxe dash, aero-screens, h'lamp stoneguards, black canvas weather roof and s /curtains, fully serviced and correctly detailed. It is proper value for money.
Finished in original Ulster & Dublin 2-tone green, with matching apple green interior from Collingburn, it's one you'll feel proud to own. So there you have it..... all the magic ingredients in place for this summer.......AND of course a really safe investment to boot!