1934 MG PA/PB PROJECT
Ever thought of building a pre-war MG-----on a budget---------this would be an ideal beginning. Major parts restored.
The chance to build an ex British Police car in almost complete, but dismantled condition (read on).
Model Type

MG PA/PB PROJECT

Style

2-seat sports

Year

1934

Registration No.

TMH 330

Engine No.

1762 AP

Chassis No.

PA 1460
£ REDUCED..14500
Enquire about this car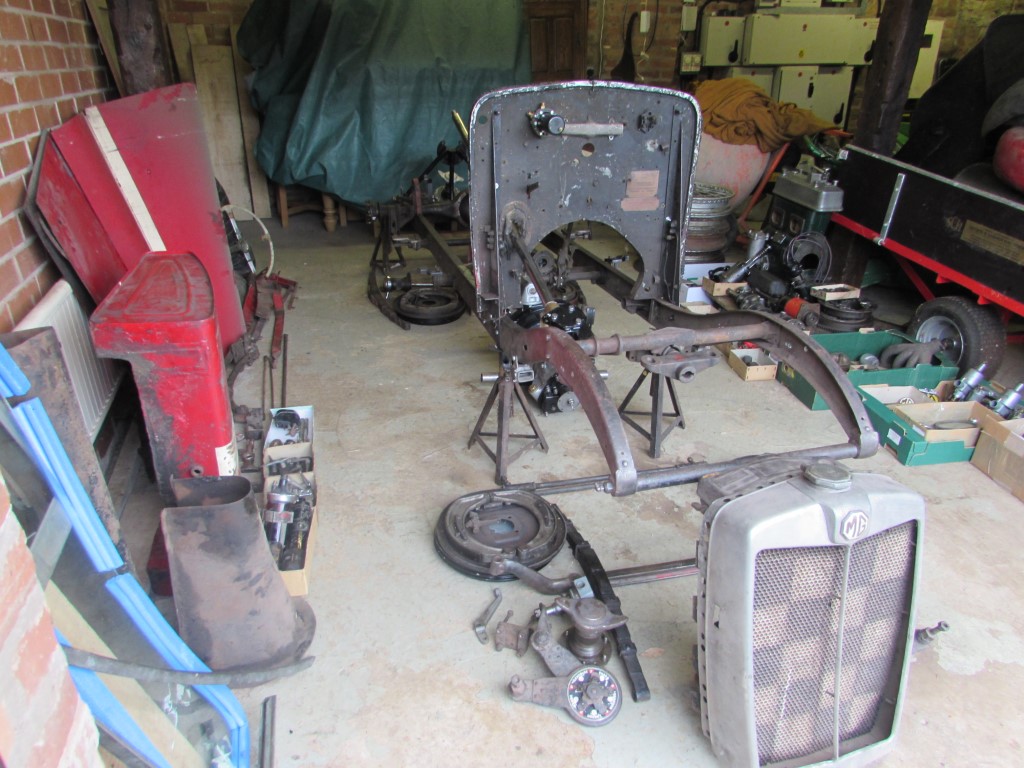 View larger images
A superb project in dismantled condition requiring a new body tub, and one of the best I've offered.
This dismantled car is in quite marvellous condition having been the preserve of one owner since he handed over £42.10 shillings for it in 1964! Having never been rebuilt since, plus the war years, the car has less than 30 years of wear which accounts for its completeness and originality. However, the price reflects that the car definitely needs a new body tub, but the front & rear wings are really good, as are the body tub metal frames, petrol tank, scuttle and original numbered bonnet.
The only weakness lies in the original PB engine fitted by the police to uprate the car (as they did with so many Police PAs). The head has been repaired and now requires machining and the block needs a small crankcase repair, but is sound in the all important bores and water areas, and must be retained with the car being the original fitted later by the Police.. Beyond this work the engine is complete in all respects, including all head gear, rocker box, rebuilt starter motor, orig. dynamo, all original manifolding, double breather pipe, flywheel, vertical drive assy., plus a complete clutch assembly and an excellent pair of original MG PA carburettors.
Moving to other areas this project comes with a fully rebuilt gearbox & remote , rebuilt differential, and fully overhauled steering box (some 4500 pounds worth). The original 12" cable brakes are totally complete and have little worn drums, while both axles, hubs, carriers and drive components are in excellent condition. The chassis is still fitted with original shock absorbers all round, body mounting brackets, spare wheel carrier, battery box and the ORIGINAL firewall still fitted with the original untouched guarantee and body plates, bronze fuelpump, coil, wire cover & accelerator cross-shaft.
The radiator and shell are in really good condition, together with a full set of windscreen supports, wiper system and new windscreen glass.
Cosmetically, all instrumentation is present excluding centre rhombic panel, likely replaced by Police with the 0-100mph speedo with octagonal bezel that's with the car, alongside complete passenger cluster panel, horn button, mirror and sergeant's grab handle! The car has full set bonnet catches, door locks, sidelights, and headlights. All orig.19" wheels are present with 5 brand new tyres.
Tell me this isn't good value for money? and it's accompanied by an original instruction manual, factory parts list, one of my original catalogues, factory chassis file and original buff log book ensuring the original registration number on completion. The car is registered with the MG Car Club MMM Register.
It will be a easy rebuild with no worries in obtaining spares, advice and information, and a wonderful start into vintage MGs and at a most affordable price.
Delivery at cost: UK or worldwide.
Enquire about 1934 MG PA/PB PROJECT
Privacy notice: the personal data you enter here is only used by Barry Walker MGs to contact you in regard to this car. We do not share your details with third parties nor will we contact you further without permission.