1934 NA Magnette
The 6 cyl. Magnette Tourer is one of the most practical and powerful early MGs.
This magnificent all-matching numbers 6cyl. ohc MG is the perfct machine for long distance touring and rallies providing ample power, huge luggage space, good ground clearance and WILL also move 4 adults in comfort.
Model Type

NA Magnette

Style

4-seat torer

Year

1934

Registration No.

JN 4402

Engine No.

627AN

Chassis No.

NA 0373
£ S O L D
Enquire about this car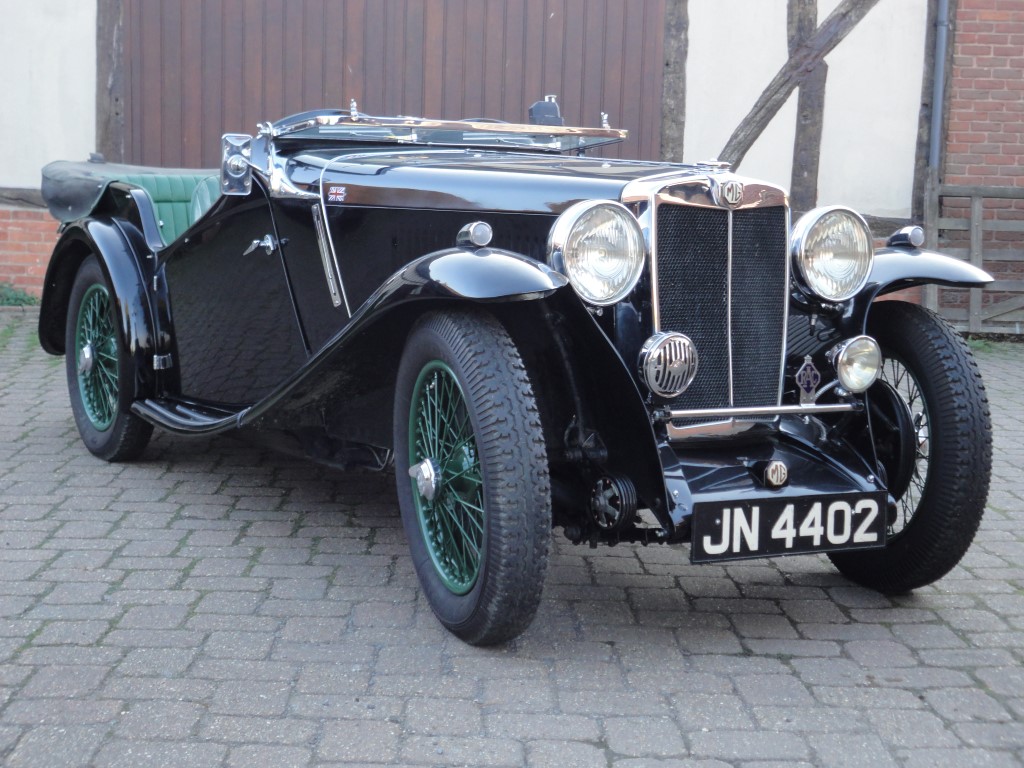 View larger images
The 4-seat tourer is often frowned on as less attractive than the architypal 2-seater, but has more recently been seen by many as the ideal vehicle for long distance touring and rallies such as 'The Flying Scotsman'. The wide, roomy and comfortable cab offers your partner/navigator ample space; the rear can be used for luggage, dogs or golf clubs, and if more room is needed a luggage rack can also be fitted in minutes with no drilling.
The very powerful 1300cc ohc 6 cyl.engine not only provides the power for reliable motoring, but has the bhp (72) to properly move 4 adults unlike the 4 cyl. 4-seaters, and this particular car has the advantage of a close-ratio gearbox and uprated clutch to give you a really enjoyable driving experience.
This car was fully rebuilt in the early 2000s by a friend of mine who is an excellent engineer and fastidious restorer. I remember it coming to our 'natters' and many events and it was always a winner and to this date has covered only 15000 since the restoration, having been constantly maintained, and recently by Oliver Richardson, who will be carrying out a full service on it before you buy it.
On test it is pulling and accelerating through all the gears reaching 78mph without difficulty. It offers a happy cruising speed of 55, which feels a lot faster, and I'm very impressed with the brakes and steering which are to a far higher standard than many MMMs I am offered. Really good. You need to come and try this, it's great.
The body is as solid as a rock; even the heavy-ish doors close fully without drop and everything fits well due to the wings, r'boards and bonnet all being the originals. The dashboard is original from left to right with the factory supplied cluster panel, odometer, water & oil temp.gauges, petrol gauge and 0-6000 r/counter. Discreet turn signals (in addition to its original trafficators) are lost in the octagonal front side lights and orig. pork-pie rear lamps.
The car is finished with excellent black paintwork, a full Collingburn apple green leather interior sporting the correct 'sunburst' pattern on the doors & wheel arches, black wool carpets and is completed with black canvas roof, full set of s/screens and full tonneau cover.
What a smashing package, and you won't be buying and building one for this price! Look forward to testing it with you, or if unsold, it will be on our stand in Hall 3 at the NEC Classic Car Show, Nov. 9th/10th11th.
Enquire about 1934 NA Magnette
Privacy notice: the personal data you enter here is only used by Barry Walker MGs to contact you in regard to this car. We do not share your details with third parties nor will we contact you further without permission.