1935 MG 'N' Magnette
A beautifully restored example of one of the most practical of all early MGs, and a bargain at this price.
An opportunity to purchase an MG, ideally suited to rallying and long distance touring with power to match.
Model Type

MG 'N' Magnette

Style

Open 4-seat tourer

Year

1935

Registration No.

YS 7798

Engine No.

New block

Chassis No.

NA 0604
£ S O L D
Enquire about this car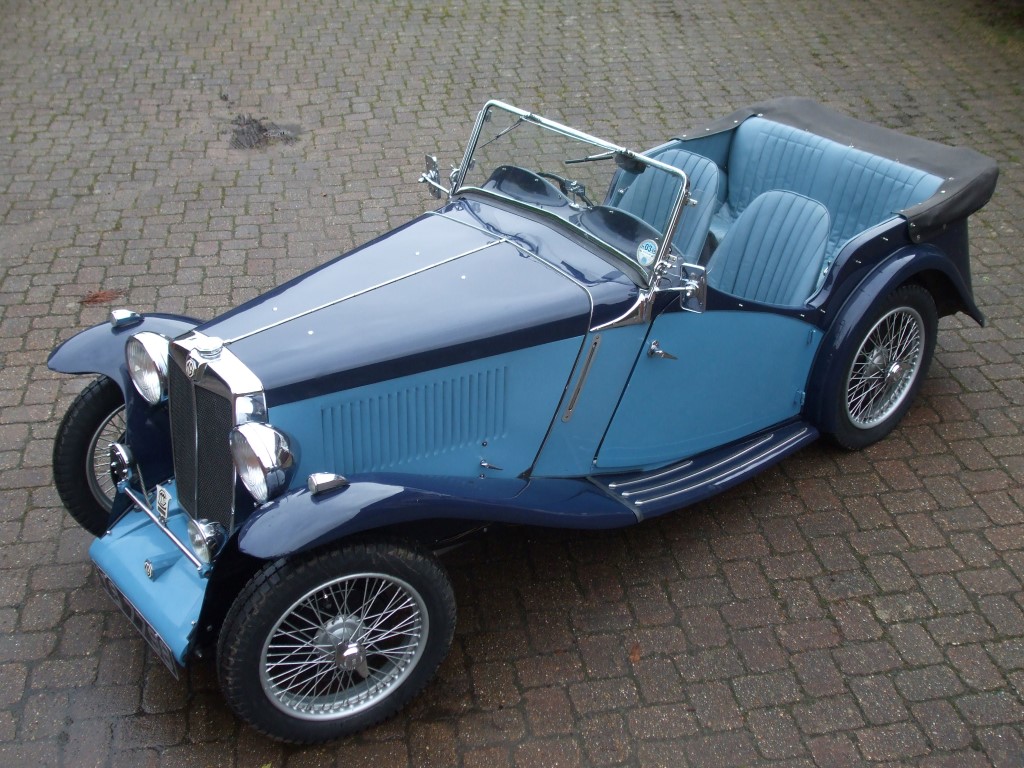 View larger images
The MG N 6 cyl. Magnette is one ofthe finest pre-war models Abingdon produced, being the final culmination of the road going over-head-camshaft MGs. The 1300cc straight 6 cyl. engine was capable of easily accepting both a side or nose mounted supercharger, but even in the unsupercharged form (as per the car offered here), it offered the occupant real power and reliability, whilst the roomy cab and luxuriously upholstered body offered comfort and huge luggage space for home or international rallying, or comfortable touring holidays. In addition, the ground clearance was very good, another 'plus' for rallying, and by 1935 MG had really got the weather equipment to do its job, making you 'snug-as-a-bug' whilst the close-ratio gearbox (fitted here) and balanced purr of the 6 cyl. engine got you to your destination with a feeling of real satisfaction..............and don't overlook the ease-of-entry that this model offers, a valuable benefit to the older owner. (I've tested it!)
The car on offer certainly matches the description given here, but with the huge added benefit of a rebuilt engine using a new and therefore sound cylinder block, (making the drive or rally even more reliable). I was supplying spares to the owners of this car way back in the '70s (see invoices in file) and following long term ownership by Barry Fisher in Essex the car passed to Keith Hall in near-by Southend-on-Sea, who as MMM Register Treasurer kept the car for another 10 years and maintained it superbly. The car then passed to another MMM enthusiast via me at the 2011 Classic Car Show, who preserved its originality and maintenance before retuning to me once more in November of this year. At no time has the car covered a significant mileage and accounts for the lively performance and ability to really pull 4 people if ever required.
We have put it through our workshop. Oliver Richardson has throughly checked out the engine, we have completed several maintenance jobs and fully serviced the whole car to present you with a stunning MG that would meet many, many requirements, including holidays, European tours or even Worldwide rallies. Few other, if any, MMM MGs would lend themselves to such a wide gambit. Try doing the 'Flying Scotsman' in a J or P type and you'll see why the 6 cyl. 4-seat tourer is the answer!
Finished it Oxford & Cambridge Blues, with complimentary light blue full Collingburn upholstered interior, correct NA dashboard, a double-breather engine, full weather equipment and numerous period extras, you have the chance to acquire a really practical, rare and beautifully presented touring MG. You will NOT waste your time in coming to view this, and at a price that buys very little in other 'sporty' marques.
Please make an appointment to view. We are closed only Dec. 23 -26 incl.
Enquire about 1935 MG 'N' Magnette
Privacy notice: the personal data you enter here is only used by Barry Walker MGs to contact you in regard to this car. We do not share your details with third parties nor will we contact you further without permission.