1935 MG PA S/charged Police Car
WHAT A BARGAIN. A rare and very interesting supercharged former Leicester Police Car.
This is for someone looking for a pre-war MG with a fascinating history of police upgrades, followed by further major recent improvements that now offer very fast road use or even competition work.
Model Type

MG PA S/charged Police Car

Style

2-seat sports

Year

1935

Registration No.

JF 8167

Engine No.

2/1865BP

Chassis No.

PA1921
£ S O L D
Enquire about this car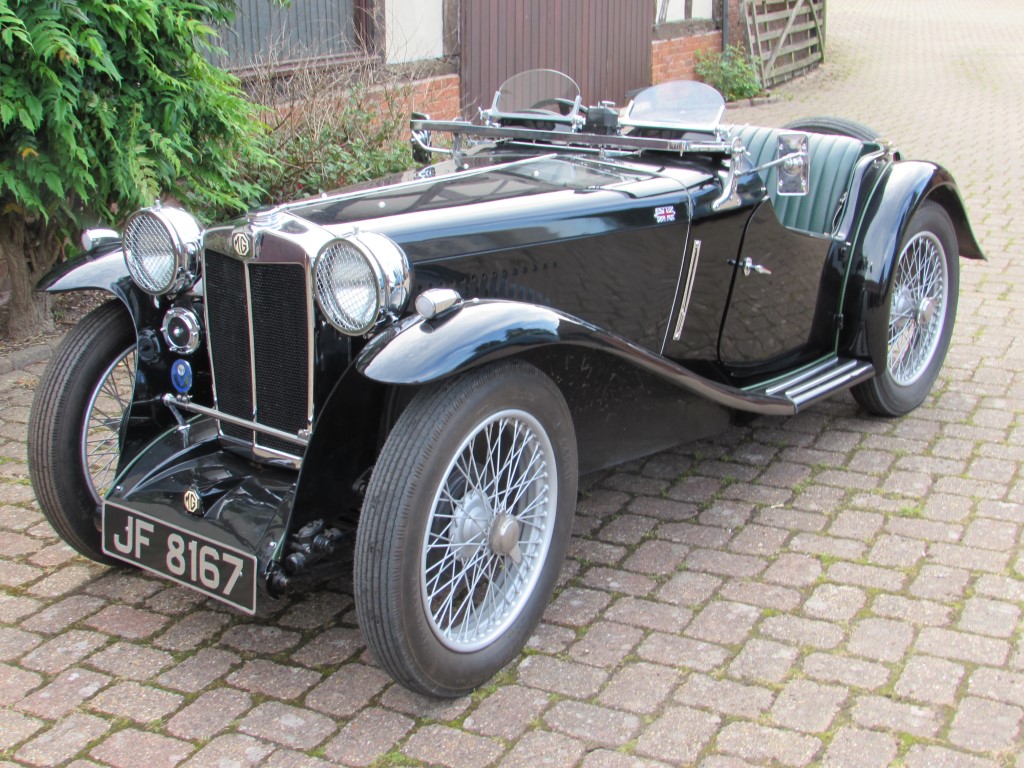 View larger images
This most interesting car was delivered to Leicester City Police on April Fools Day 1935! and registered by them as a 'Public Carriage' on 26th April that year. The basic car still carries many of the original Police upgrades, including the improved Wolseley brakes, the Archimedian petrol gauge, recalibrated speedo/rev. counter and period hydraulic shock absorbers all round. In addition the new engine ordered by Leicester Police in Dec. 1935 was to PB specification and probably accounts for the engine stamping of 2/1865 BP, on a 60mm double breather block, still fitted today.
However, the most recent owner has taken the car to yet another level with an investment over the last two years far exceeding £40,000! Ill health only, has forced this reluctant sale.
Whilst maintaining the car's patina and original features, JF 8167 received a total mechanical restoration by Andy King of 'Pre-War MG' just 2 years ago, then fitted with an easy-to-drive pre-select gearbox and then to fully ice-the-cake , a side mounted Marshall supercharger, as offered by the factory when new, was also professionally installed by Andy. Further work covered a complete new rear suspension, halfshafts, hubs, seals, etc., etc.
Fully itemised invoices show every facet of the engine build in 2019, together with all other work discussed above. The engine has now been run-in and is giving the performance I'd expect from this specification, though further tweaking could easily offer competition use to those inclined. The ingredients are there for the existing fabulous road car or a potential road/race/hill-climb opportunity.
The interior and dash are superb, plus the car has turn signals in front & rear lamps, (as well as working SF24 ultra thin orig. trafficators), electric fan, aeroscreens and headlamp stoneguards. (Only needs one of my bonnet belts!!)
JF 8167 is finished in its original police black but with dark green upholstery rather than police blue, with brand new roof and brand new tonneau cover. The history file contains period police photos of the car in 1935, an amazing article on the history of MG police cars, the factory chassis file, together with all DVLA paperwork.
A wonderful package for a discerning customer at a price that most will realise really is too cheap for such a specification; but there it is , grab a bargain.
Enquire about 1935 MG PA S/charged Police Car
Privacy notice: the personal data you enter here is only used by Barry Walker MGs to contact you in regard to this car. We do not share your details with third parties nor will we contact you further without permission.