1938 MG SA Tickford d.h.c.
It is rare for me to offer the MG SVW range, but a car of this quality cannot be passed by under any circumstances.
A remarkable restoration to the highest possible standard, and regretfully valued by the market at way less than it cost to do. So another true bargain. (Additional & better? photos will follow early next week)
Model Type

MG SA Tickford d.h.c.

Style

Open 4-seat tourer

Year

1938

Registration No.

LSL 617

Engine No.

QPHG 2718

Chassis No.

SA 2526
£ S O L D
Enquire about this car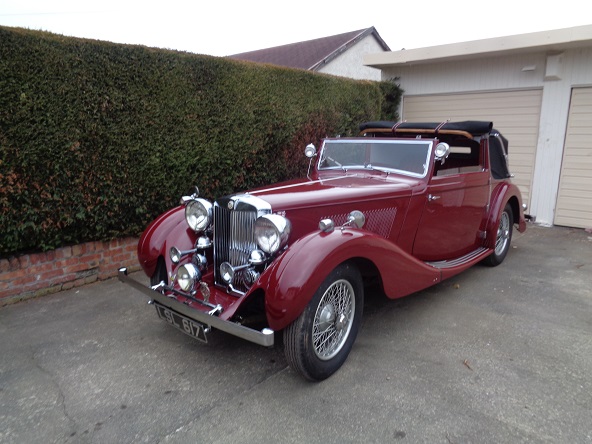 View larger images
Now here is a car I rarely offer, but the utterly sumtious condition of this vhicle would see it sit comfortably in any of the World's finest collections, or in the home of a true SVW enthusiast such as it has recently come from. Were it not for another equally gorgeous car that found its way into this owner's garage it is unlikely this would be for sale. Well it is, and lucky the person who secures this magnificent example of the MG Marque.
In my eyes, like any car, but especially vintage....it MUST be used, but I accept this is a fair-weather car that it will be invited to some of the World's finest summer gatherings and will be seen as a beacon to represent 'MG'.
Congratulations to Peter Ratcliffe and his team at the original SVW Company for this immaculate restoration that cost over £100,000 to complete. Whilst prices are slowly catching up to restoration costs, it is still disaappointing that cars of this quality don't match their costs, but then they offer remarkable value that continues to grow over the years. As many early MG restorers and craftsmen continue to disappear, fewer and fewer top range models will come to fruition and the best of all examples will continue to rise in price.
This car represents a chassis-up restoration of the finest order------the photos speak for themselves----and any test or inspection is warmly invited for those looking for an impeccable investment and luxury enjoyment.
Enquire about 1938 MG SA Tickford d.h.c.
Privacy notice: the personal data you enter here is only used by Barry Walker MGs to contact you in regard to this car. We do not share your details with third parties nor will we contact you further without permission.