1939 MG TB Tickford d.h.c..
Another exceptional restoration of one of the world's rarest MGs.
This truly magnificent MG TB Tickford is one of only 60 or less produced, and is thought to to be one of only four remaining in the UK.
Model Type

MG TB Tickford d.h.c..

Style

Tickford D.H.C

Year

1939

Registration No.

FVU 49

Engine No.

XPAG 626

Chassis No.

TB 0376
£ SOLD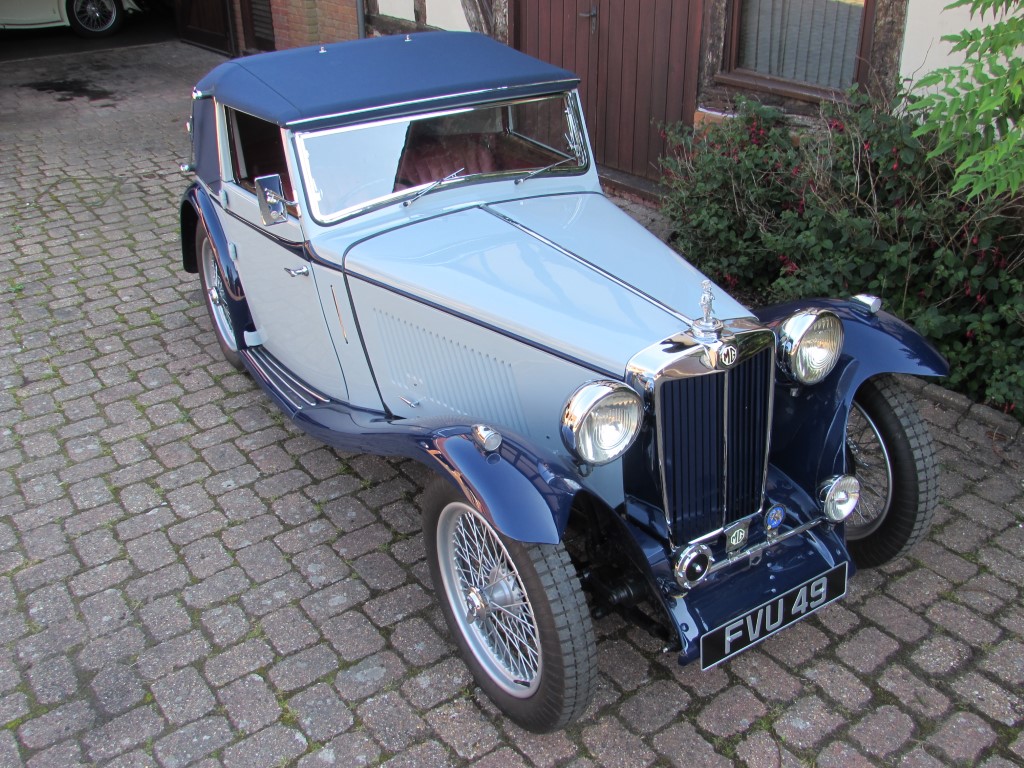 View larger images
The TB is one of the rarest of road going MGs, being a developmentof the TA Midget but fitted with the newly designed and much improved XPAG engine. The production from May to October 1939 was of course prematurely cut short by the outbreak of war, and of the approx. 376 TBs built, most received the standard 2-seat open sports body, with just some 60 receiving the Coupe coachwork .
The Tickford coupe bodywork was produced by Salmons & Sons of Newport Pagnell and was fitted to the MG TA & TB Midgets, as well as to the larger VA, SA &WA models.
Several TB Tickfords exist in the US but fewer than 5 are recorded here in the UK and this example is one of the best in the world. The subject of a nut & bolt, chassis-up restoration by a fastidious owner whose one goal was to get it 'right', and he did this in both engineering and originality and the result to me defies criticism.
The chassis is completely restored with the autolube system perfectly clipped and fitted, original Luvax shock absorbers all round, together with rebuilt steering , front & rear axles and rebuilt differential. The genuine TB engine and gearbox have been completely stripped and rebuilt with numerous invoices to hand.
The bodywork is precise to Tickford drawings and was one of a batch produced by the original Naylor Brothers. It has perfect door 'shuts', original wings, valences and bonnet. This body is graced with a Collingburn red leather interior that just has a lovely patina. The roof lining is in grey felt and fitted with the original interior light, holding straps and over the screen the Tickford insignia. The roof mechanism is all original in high quality chrome plate and works with ease.
The vehicle's performance is monitored by the correct chronometric speedometer & rev. counter, and a full set of smaller gauges, with the addition for today's traffic of a water temperature gauge and discreet , but clever turn signals front & rear that include the original semaphore arms.
The paintwork is immaculate in Ocean Blue over Dove Grey; every lamp is correct, incl. the FT27 foglight; a correct and complete most valuable tool kit resides in and around the rubber trays while new TB centre laced wheels are shod with prewar pattern Blockley 450 x 19 tyres.
Finally the superb Tickford roof is in Navy Blue mohair with correct rear window and all internal fittings. The smaller Brooklands steering wheel and excellent seat slides make for easier access, ....... but I would be wrong to say a six-footer would enjoy this car!
The TB in itself is rare, but in this form, not only is one obtaining a very sought-after MG, but a comfortable, warm and most practical car for all weathers. This restoration has truly justified the rarity, and at this very fair price a more than worthwhile investment.