1947 MG TC
A totally restored TC having all matching numbers, and in the rarest factory colour combination of Clipper Blue with beige interior.
A very well built car offering originality, reliability and numerous extras.
Model Type

MG TC

Style

2-seat sports

Year

1947

Registration No.

LXS 819

Engine No.

XPAG 3493

Chassis No.

TC 2850
£ S O L D
Enquire about this car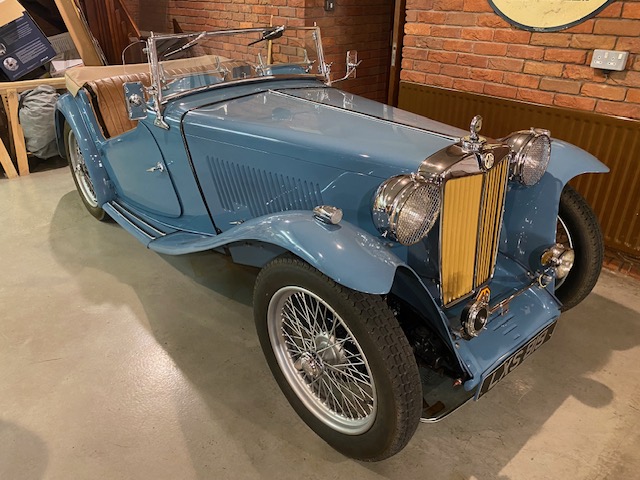 View larger images
Yes there are many TCs for sale and the choice is huge, but if you buy from us you will not be diving into the unknown. We investigate all the cars we buy, describe them accurately, service every one and get you to go through all the details with us so you buy with real confidence. I say this as so many TCs we look at have hidden problems, need work and further expense once purchased.
You have the chance here to buy a TC that we have owned before, having purchased it back from the owner we sold it to as he moved up to a supercharged MG. Therefore, we know the car well. It has been maintained impeccably and has now been serviced and valeted in our workshop.
The car was born on 23rd. May 1947 and has sucessfully weaved its way through life without any alteration or nasties. It even survived unscathed for a short period in the US, from where I originally purchased it in 2019. I then sold it to a gentleman in Scotland from whom I just repurchased it.
The complete rebuild was carried out by a meticulous owner in US who valued the originality . It sports a new body tub, the original chassis, brakes, engine and steering have all been rebuilt, with exceptionally good steering, often a weekness on the TC. The car has all matching numbers and is finished in the rare factory colour combination of Clipper Blue with bedige leather interior and virtually unused matching beige weather equipment of tonneau, roof & side screens.
In addition the car is fitted with matching aeroscreens, headlamp stoneguards, LH & RH original w/screen mounted mirrors (for today's traffic) and an original tool kit..........and all for a price you would have dreamt of just a few yeas back.
The car comes with US papers, MGCC 'T' register verification letter, original factory maual, spares catalogue and DVLA V5c.
On the button, ready to go, in time for many more shows this year. Don't miss a good one.
Enquire about 1947 MG TC
Privacy notice: the personal data you enter here is only used by Barry Walker MGs to contact you in regard to this car. We do not share your details with third parties nor will we contact you further without permission.