1947 Supercharged MG TC
Here is something really a bit special in if you're thinking of an MG TC........
A beautifully restored and presented supercharged MG TC prepared for use in today's traffic conditions.
Model Type

Supercharged MG TC

Style

2-seat sports

Year

1947

Registration No.

JKR 410

Engine No.

XPAG 3720

Chassis No.

TC 3108
£ SOLD subject to contract
Enquire about this car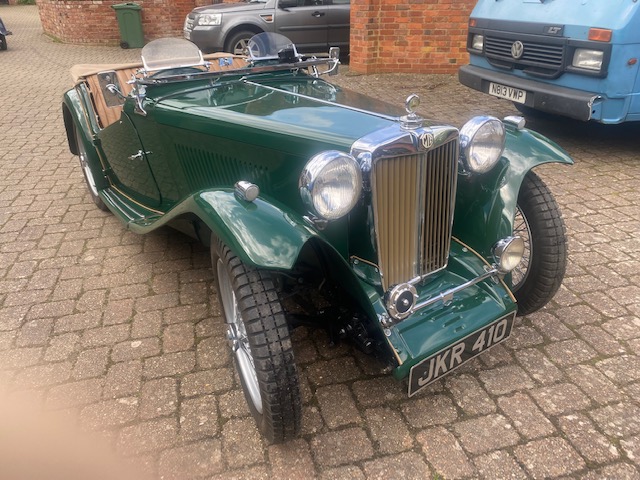 View larger images
Here is a car for someone looking for reliabilty , speed and the ability to operate in today's traffic conditions, whether it's just to the shops, enjoying car club events, or even entering a rally like the 'Flying Scotsman. It's all doable with this particular car.
Rebuilt throughout for proper road use between 2014 & 2017 but regretfully little used owing to the previous owner's personal circumstances, this car comes to you with its new life before it. The chassis is fully restored with new road springs, hubs, seals, pins etc. All rebuilt original shock absorbers, relined brakes, fully restored radiator and rebuilt differential with upgraded VW steering (original box rebuilt and with car for those who prefer it). Brand new 19" centre laced wheels shod with all new 450 x 19 tyres.
The standard XPAG engine has been fully overhauled with slight increased bore to appreciate the powerful, but unobtrusive side mounted supercharger and large carburettor but resulting in a more than healthy 80+bhp. This is driven through a 5-speed gearbox to save you looking for, and wishing for, that extra gear when you reach 60mph in 4th and your right foot has barely pressed the throttle! So all-in-all a magnificent drive train.
Turning now to the body. This a new tub from a recognised craftsman fitted with a full leather interior, complete original dash with correct chronometric gauges, centre panel, 30mph. lite and fuel warning lamp. Discreet turn signals and LED bulbs add to its everyday road use. The carpets are black wool and there is a full set of virtually unused weather equipment of roof, s/screens and full/half tonneau. The chromework is first class. The h'lamps are the original Lucas MB 140 with 'Cats-eye' lenses, original 'Altette' horn, twin rear view RH & LH Lucas '160' r/v mirrors, and correct Lucas FT 27 foglamp.
Finished in B.R. Green, the presentation is superb, and coupled with the road performance discussed above, you have a TC that warrants its price following a rebuild cost of £46,000; plus it saves you rebuilding one of the dozens of so-called 'fully restored ?' TCs regularly advertised at £25-£30K. Most want hours & hours of work, this one is on the button, totally rebuilt, fully checked and serviced by us and ready for what you want to throw at it. I see dozens of TCs, so when I pick one you know you're getting what I say it is.
Please come and view and test this impressive car. Just ring or e-mail for an appointment, we do not waste people's time.......but don't wish it was red, because it IS green!!
Enquire about 1947 Supercharged MG TC
Privacy notice: the personal data you enter here is only used by Barry Walker MGs to contact you in regard to this car. We do not share your details with third parties nor will we contact you further without permission.