1949 MG TC
How nice to find such an original, well built MG TC.
An older, all matching numbers restoration MG TC in such original condition.
Model Type

MG TC

Style

2-seat sports

Year

1949

Registration No.

TBA

Engine No.

XPAG 9790

Chassis No.

TC 9124
£ 29,950
Enquire about this car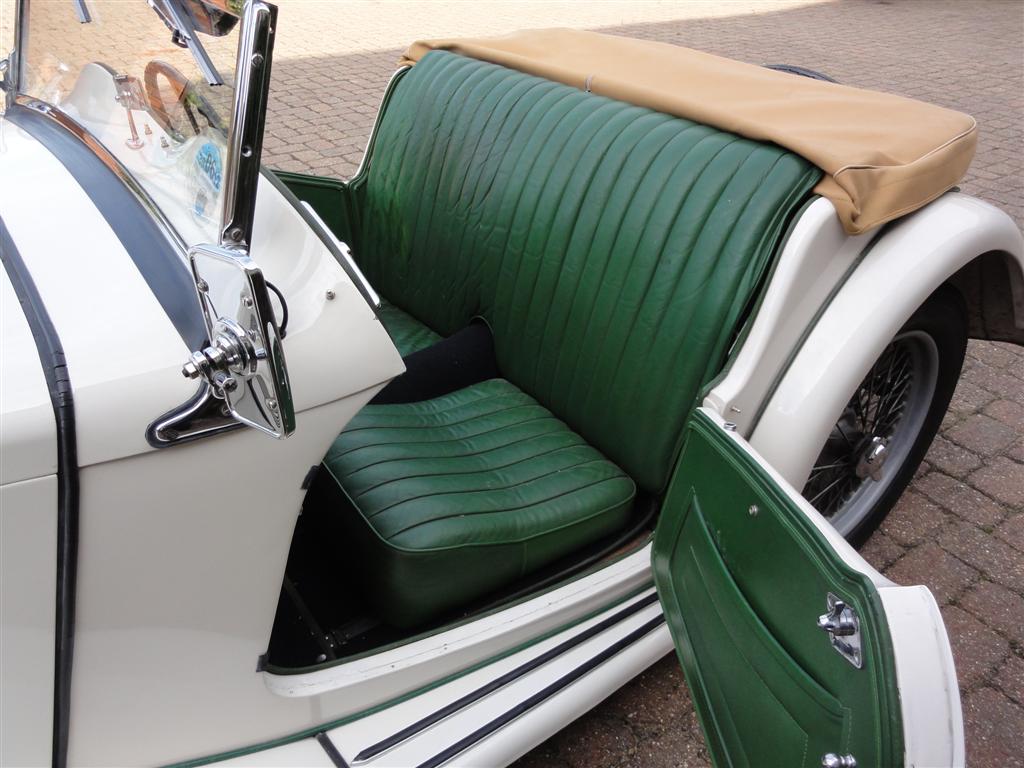 View larger images
A FULL SET OF PHOTOS OF THIS CAR WILL FOLLOW BY 12/10/18
How nice to find an older restoration that was clearly properly built approx. 25 years ago and still in excellent condition both bodily and mechanically. The engine is superb (65psi cold/40-45psi hot); the brakes are excellent (all drums off , cleaned and adjusted); the original body is sound and solid (there may be some new wood, though I doubt it), but it is as solid as a rock. The gauges are all the original Br. Jaeger chronometric units, no repros, and all are working correctly; with discreet turn signals in the front side lights and rear lights. Fuel warning light operating correctly.
Rebuilt wheels, almost new tyres, Collingburn apple green trim and good weather equipment. Chrome is first class, and all fittings are genuine 1949 MG TC , such as the Lucas SFT 462 foglamp, Lucas HF1234 'Altette' horn, and its original 'Brooklands' 17" steering wheel. (Smaller wheel available at no extra cost). A matching Nos. car thus fitted with its original factory engine, gearbox, axles, guarantee plate, etc.
The TC is currently fitted with the life-changing VW steering box conversion, but for the purist, the original Worm & Peg 'Bishop Cam' box is available with the car.
Now you may say on reading this discription: why is it so cheap? The excellent cellulose paint has started to craze on the horizontal wing surfaces (but not bonnet or tank).. You have to get close to see it, but while some will see this as genuine 'patina' (which it is of course), others will yell for a respray ; so a car that is genuinely worth £33-£34K is being offered at £29,950, so those that really MUST have a repaint are fully covered. Believe me it is not that bad, but there is some crazing. (Shows how good the paint job is,.........as poor paint 'flakes', good painting just 'crazes' a bit.) Over to you.
I have a number of people interested in this car already.....so first come, first served.
Enquire about 1949 MG TC
Privacy notice: the personal data you enter here is only used by Barry Walker MGs to contact you in regard to this car. We do not share your details with third parties nor will we contact you further without permission.