MG Models & Glossary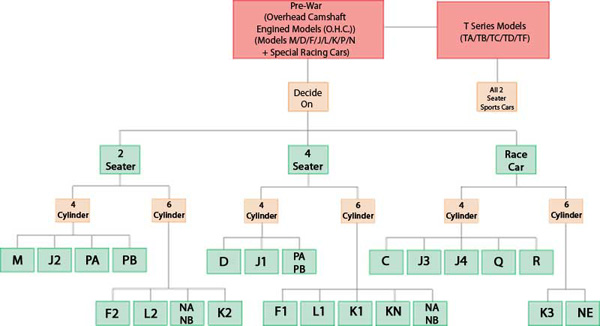 Glossary
MG - Morris Garages
MMM - Midget, Magna, Magnette
Midget Models
M (1929-1932)
First production sports car from the MG Car Co., Ltd. Boat-tailed 2 seat sports. Fabric bodied 1929-1931. Metal bodied 1931-1932. 848 cc ohc engine. Non-crossflow head, single SU carburettor. Chassis Numbers M-0251 to M-3485.
D (1931-1932)
MG's first attempt at building a 4 seat open tourer. Early examples used 7' wheelbase 'C' type chassis, the later versions used a 7'2" wheelbase chassis, subsequently used for the J types. An ungainly design, often viewed as back-heavy and was sluggish with the use of the 20 hp M engine. Chassis Nos. D-0251 to D-0500.
J (1932-1934)
J2 - the archetypal 2 seat slab tank open sports MG. Over 2,000 were built of which well over half survive today. Marred perhaps only by its weak two bearing crankshaft - a problem overcome today by the fitment of a stronger counter-balance shaft. Chassis J-0251 (pre-production) and J-2001 to J-3437 were fitted with cycle wings. Chassis Nos. J-3438 to J-4083 were fitted with long flared wings and running boards. 848 cc ohc with crossflow head and twin 1" SU carburettors.
J1 - the 4 seat open variant of the 2 seat J2 sports. The use of the J series power unit gave this model a great advantage over the very similar D type that it superseded. Chassis Numbers J-0252 to J-0631.
J3 - a factory supercharged version of the J2 2 seat sports. Almost identical to the J2, it sported a 'Powerplus' super-charger between the chassis dumbirons and was fitted with a 746 cc engine to enable it to compete in Class H racing events. Chassis Numbers J-3751 to J3773.
PA (1934-1935)
Similar in design to the swept wing J2, this 4 cylinder model sported a new look and a stronger engine, still of 848 cc but with a 3 bearing crankshaft; together with a wood facia against the mottled aluminium dash of the J2. Contrary to many reports there were 110 fewer PAs built than J2s. Chassis Numbers PA-0251 to PA-2250 - The last 27 chassis were built into PBs by the factory and given PB chassis numbers.
PB (1935-1936)
One of the most sought-after of all the small MGs, the PB was identical to the PA except that it was uprated to 939 cc to compete with the Singer 9 of that year, sported a slatted radiator grille, a revised dashboard layout and a close ratio gearbox. Production ceased after 526 had been built. Chassis Numbers PB-0251 to PB-0776.
Magna Models
Note: Chassis Numbers for the 'F' were from F-0251 to F-1500 and were not officially segregated between the F variants as they were with the J and P variants.
F1 (1931-1932)
The first of the 6 cylinder ohc MGs. Fitted with a twin carburettor, non-crossflow 1271 cc engine of basic Wolseley design, this 4 seat MG was a marked improvement over its 4 cylinder D type brother. It has been generally underrated but is becoming very popular now as a cheaper alternative to the K and N models. There were saloonette and special body variants.
F2 (1932)
A very rare 2 seat version of the F1 tourer. Only 40 examples were built. Powered by the 1271 cc Wolseley derived engine, they were fitted with a J2 body but longer bonnet to accommodate the longer engine. Cycle wings were fitted as standard, but with the decisive advantage of 12" brakes over the 8" brakes of the F1.
F3 (1932)
The model reference given to the final batch of 4 seat F type tourers that were fitted with 12" brakes.
L1 (1933)
Flared wing, 6 cylinder, 4 seat open tourer sporting considerably more power from the better designed, crossflow, twin carburettor engine of only 1086 cc. The car enabled 4 adults to be transported at reasonable speed but only 486 were built including the saloon and coupe versions. Chassis Numbers L-0251 to L-0736.
L2 (1933-1934)
The 2 seat version of the L1 Magna has become one of the most reverred of all MGs. Utilising the body from the swept wing J2, with longer, rakish front to accommodate the powerful crossflow 6 cylinder engine, the disappointment is that only 90 were made. Chassis Nos. L-2001 to L-2090.
Magnette Models
K1 (1932-1934)
Built on a newly designed 9 ft. wheelbase chassis of considerably greater strength than the Midgets and Magnas, the K1 was available as an open 4 seat tourer and saloon and utilised 4 ft. wide axles. The KA was fitted with the 1086 cc and pre-select gearbox. The KB used the same engine but a manual gearbox, whilst the KD variant used a longer stroke 1271 cc engine and pre-select gearbox. Many K1s have now been rebuilt into replica K3 race cars. Chassis Numbers commenced at K-0251.
K2 (1934)
One of the rarest of all non-racing MG cars. Only 20 of these handsome 6 cylinder 2 seat sports cars were built. The car utilised a 7' 10½" chassis identical to that used for the K3 racing Magnette and was consequently well proportioned, light and fast. Chassis Numbers K-2001 to K-2020.
KN (1934-1936)
This model was the last of the K variants and was built only in saloon form, although 27 chassis without bodies were sold. The car was powered by the new N series 1271 cc 6 cylinder ohc engine with manual gearbox but it did not prove popular and only 193 were built.
NA (1934-1935)
This was the final basic design by the MG Car Co., Ltd. before the Company was absorbed by Lord Nuffield into his Morris empire. Built on a new tapered chassis, the car was offered in both 2 and 4 seat form. It utilised a 6 cylinder version of the concurrently running PA engine and sported a similar dashboard and honeycomb radiator.
NB (1935-1936)
This was the final development of the Magnette and was basically a redesigned NA, having the door hinges reversed and made conspicuously long, a lower scuttle line and was powered by the same engine (with additional breather on the block), but with a closer ratio gearbox. The radiator grille featured slats like the PB. 2 and 4 seat versions were again available.
ND (1934)
This MG is rare and has become most desirable. The failure of the K2 to sell in sufficient quantity resulted in a considerable surplus of new K2 bodies at the factory. These bodies were fitted to the N chassis in 1934 and produced a powerful 6 cylinder 2 seater that was light to handle and handsome to look at.
Racing Models
C (1931-1932)
First true racing car from the MG stable. Derived directly from the M type. Only 44 were built, 8 in supercharged form. Chassis Numbers C-0251 to C-0294.
J4 (1933)
This was the full racing version of the J2 2 seat sports. Only 9 examples were built of which 8 remain today. A supercharged, doorless, 746 cc model with outside exhaust, manual gearbox and full racing dashboard layout. Chassis Numbers J-4001 to J-4009.
Q (1934)
A spartan 2 seat racing car offered from the factory in ready-to-race form. From the 746 cc engine, which utilised a P type block and head, an amazing 110 bhp was achieved. Fitted with a Wilson pre-select gearbox and blown by a Zoller supercharger, the car was raced with great success but only 8 customers were attracted. Chassis Numbers QA-0251 to QA-0258.
R (1935)
A revolutionary mono-sports design, utilising for the first time a 'Y' shaped chassis and wishbone suspension. Its limited success was due to instability under braking; but were it not for the Nuffield take-over of MG in 1936 it is likely these early set-backs would have been quickly rectified and a highly successful race car produced. Alas it was not to be and only 10 were completed. Chassis Numbers RA-0251 to RA-0260.
K3 (1933-1934)
The most famous of all racing MGs. 33 of these 6 cylinder racing cars were made, and were fully prepared for road or track direct from the factory. The 1933 cars were a more conventional slab-tank, doorless body and were a supercharged 2 seater, including windscreen and weather equipment. The 1934 cars wore a pointed tail, 1.5 seat body.
All K3s were powered by the 1086 cc ohc magneto-ignition engine, supercharged via a Powerplus (1933) or Marshall (1934) unit mounted forward of the radiator and driven through a Wilson pre-selector gearbox. Chassis Numbers K-3751 and K-3001 to K-3032.