Selling Your Car
We currently need: nearly finished, or fully finished quality Pre-War MGs. We have always paid the highest cash prices for the right cars and continue to do so to this day.
We will realise the price you want so please call if you are thinking of selling an early MG: M type, F type, and models D, J, L, K, PA, PB, NA, NB, Q, R (ha, ha!), TA, TB, TC, TD, TF.
Our Service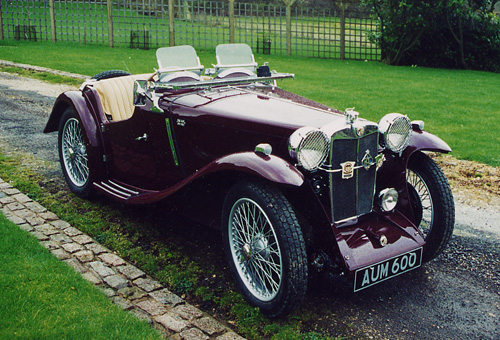 Are you considering selling an old MG of the types we deal in?
Any of the pre-war o.h.c. models (1929-1936)
Any TA, TB, TC, TD or TF Model (1936-1955)
VA or SA Tourers
Firstly, we try to buy outright almost all the cars we sell by offering more than others. That's a fact. Having an in-depth knowledge of this one marque that we have dealt with for almost 50 years, enables us to accurately value cars for sale, explain to owners what is right and what is wrong, and invariably agree a deal acceptable to all. Certainly worth getting us to view it.
If you do not want the hassle of advertising, phone calls and unwanted visits from time-wasters you may consider letting us sell the car for you. Our service has been operating for over 45 years, it is inexpensive, efficient and highly respected, ensuring your MG receives professional market exposure and you receive the best possible price without complications:
Commission Sales
Not so popular today - this is where we deduct a commission (related to the condition of the car and what we have to do to sell it), typically between 10% and 15%, from the sale figure. However commission is subject to V.A.T., as is any work we do on the car.
MRF - Minimum Return Figure
This is now the preferred sales method with our clients. You state the figure you require, clear, back in your pocket. If, on inspecting the car and taking into account our expenses, we consider this to be fair and achievable, we will agree to return that amount to you irrespective of the costs we incur to make a sale. This way your car will receive a professional marketing service, you know what you're getting back and you will simply receive a cheque in the post once the sale is completed. The car remains with us for a minimum of 4 months to allow for any small jobs (not chargeable to you), advertising, market exposure, interviews etc. to take place. Almost all the cars we offer sell well within this time frame.
WHY NOT GIVE US A CALL AND DISCUSS IT?
- NO SALE NO COST -